How to Sensitively Talk to Your Children about Mass Shootings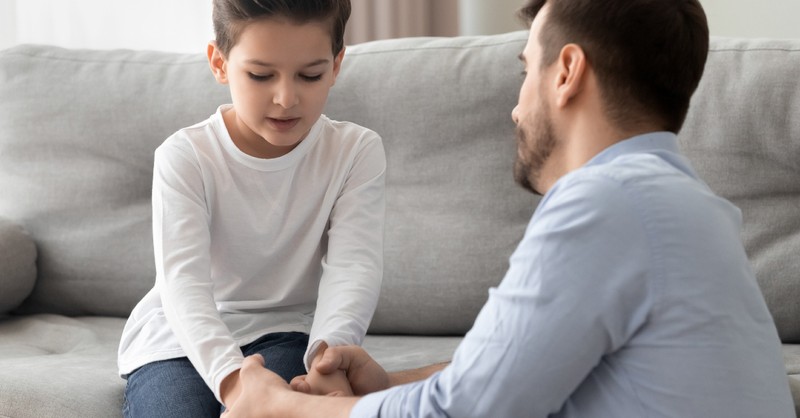 Less than 30 minutes from where we live, a former football player named Phillip Adams recently went on a shooting spree, killing six people, including a beloved doctor, his wife and their two young grandchildren, while they were in their home. Among those who also lost their lives was a HVAC technician working outside of the house--a man who happens to be from the town where we live.
This tragic event comes on the heels of another shooting spree in the Atlanta area earlier this year, and one has happened at a school in Knoxville, Tennessee since. While we seemingly had a reprieve from these types of headline-grabbing, mass murder events during the height of the pandemic, 2021 seems to be back to the sad state of normalcy we are all too used to.
It's hard for me to remember much about current events or news when I was growing up. A few major events stick out, but we didn't have a 24-hour news cycle or social media when I was a kid. I mostly got my news by eavesdropping on my parents or listening to Channel One News during my middle school homeroom class.
There, Anderson Cooper and Lisa Ling (before they were household names) would tell us young pre-teens about the things going on in the world, but in a way we could digest.
Of course, we never heard about shootings, as they weren't a part of my childhood experience the way they are a part of my kids' lives. Columbine hadn't yet happened. Sandy Hook was unfathomable in those days. Now, our kids do active shooter drills the same way we did fire drills. Sadly, it's normal.
As parents, many of us struggle with how to handle this environment in which our kids are growing up. It's a scary world out there, and in many ways, so very different from the one in which we grew up.
We have a responsibility to shepherd our kids, keep them safe while they are under our care, and help them to grow into the version of themselves that God has called them to be. What we say and do every day matters.
How we engage with them on difficult subjects like mass shootings is critical to their development; it's vital into shaping in them a godly worldview.
So, how do we talk to our kids about mass shootings?
To be clear, I'm not a child psychologist or expert in this area. There are plenty of those out there, one of whom is quoted below.
I'm merely a parent, just like you, navigating these difficult waters day by day. The thoughts below are things that have helped me begin this process.
1. Consider Your Child
First and foremost, you should think about the age and maturity of your child. NBC's The Today Show has this great resource – an age-by-age guide – for talking to kids about shootings.
In it, parenting expert Dr. Deborah Gilboa cautions: ""If it doesn't directly affect your family, kids under 8 do not need to hear about this." Younger kids, she says, aren't really able to process these heavy topics.
But, there's no hard and fast rule about the age. You know your child, and their maturity level, better than anyone.
In our family, the time to have serious conversations with my oldest is after my 7-year-old son goes to bed. My daughter doesn't have Channel One News like I did, but she does regularly watch CNN 10, a student-focused short headline news program, in her classroom.
This provides a great launching point for dialogue around what's happening in the world.
2. Have a Plan, but Follow Your Son's or Daughter's Lead
So much of parenting is reacting to what arises day by day. In a sense, I often feel like I'm "winging" it. But, there are certain conversations that are best conducted with a plan.
Talking about mass shootings or uncomfortable current events fall into this category. It's important to have an ultimate direction or theme to your remarks. What is the headline, or the main idea, you want to stick with your child? Let your conversation start, or ultimately lead there.
We should allow plenty of space for kids to be involved in the conversation. Let them express their feelings and ask questions. "[This becomes] a great conversation of their values and your values that do not focus on the particular gore [but] more on the person you are raising," Dr. Gilboa says.
Our responses to our kids should frame the news in a way that reinforces truths about the Gospel and our Christian worldview. We can introduce to them (or reinforce) critical concepts like the fact that we live in a Genesis 3 world and bad things do happen. Sin is real, but God is good and we can turn to Him with all of our hurts.
3. Be truthful and Honest, but Don't Overshare
While it is important to be open and honest with your child, there are certain things you need to shield and protect them from. Some images can be disturbing and particularly haunting in a young mind.
Instead of focusing on the dark side, talk about those positive things that happen in response--things like the first responders who help or the community coming together to support victims' families.
Also, avoid having conversations with your children before you've had your own time to react to the news. "You have to process your own emotional response. What you do will affect them more than what you say," Dr. Gilboa says. "Have your first reaction away from your child."
Anger is normal, and it's okay for us to have these feelings. But, it's not helpful for this process to take place at the same time as your child. Our kids are looking to us as parents to have answers. And, while we can't answer every question, we can help them to learn and grow through how we respond.
4. Pray, Pray, Pray
I don't know about you, but many days I feel so inadequate as a parent. When I became a father is the moment the truth of John 15:5 became so real. ("…for apart from Me you can do nothing). We need God to help us--and our kids--to get through the difficult times in which we live.
Not only do we need His help to process our feelings and emotions following mass shootings, but we need his wisdom to know what real-world actions we can take to make a difference in our community and prevent these things from happening.
That's why we need to pray. Pray before conversations with our kids about mass shootings, pray with our kids during them, and pray afterwards, that God would work in their hearts to draw them closer to Himself.
After all, "If any of you lacks wisdom, let him ask God, who gives generously to all without reproach, and it will be given him" (James 1:5).
Related: Listen to Our FREE Parenting Podcast!
Parenting in this day and age is not for the faint at heart. Mama Take Heart host Robrenna Redl is here to help equip and empower you with resources and practical takeaways, whether you're looking for ways to intentionally connect or to have hard conversations. So don't fret. Instead, take heart! Listen to an episode here, and then head over to LifeAudio.com for all of our episodes:
Photo Credit: ©GettyImages/fizkes
Brent Rinehart is a public relations practitioner and freelance writer. He blogs about the amazing things parenting teaches us about life, work, faith and more at www.apparentstuff.com. You can also follow him on Twitter at @brentrinehart