5 Important Things Daughters Need to Hear from Their Fathers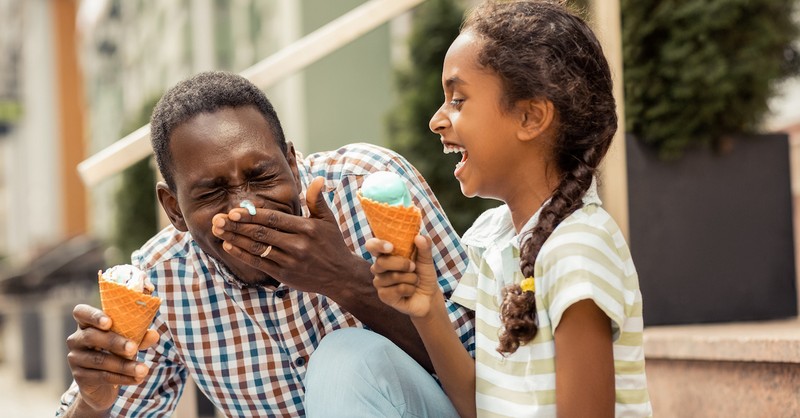 Dads matter. A lot.
It's easy to think the contrary is true if you watch how fathers tend to be portrayed on TV and film. Not every father is a buffoon who can't change a diaper, prepare a meal for the family, or scrub a toilet. Not every father looks for excuses to retreat to a "man cave" to watch football instead of spending time with his family.
The importance of the role of fathers is not an opinion.
Research has found that "kids who grow up with a present, engaged dad are less likely to drop out of school or wind up in jail, compared to children with absent fathers and no other male caretakers or role models. They're more likely to have high-paying jobs and healthy, stable relationships when they grow up. They also tend to have higher IQ test scores by the age of 3 and endure fewer psychological problems throughout their lives when fatherhood is taken seriously."
The bottom line is this: when a man is actively involved in his child's life, the kid is better off. Some call it "The Father Effect." And, it's especially critical for daughters as they grow into young ladies.
"Numerous past studies find a link between low-quality fathering and daughters' sexual outcomes, including early and risky sexual behavior," Danielle DelPriore, who has studied how dads impact risky sex, recently told Fatherly.com. "A father who is cold or disengaged may change daughters' social environments and sexual psychology in ways that promote unrestricted sexual behavior."
Daughters learn about love and relationships from what they see and hear—or don't see and hear—from their fathers. But, it's not just about sex. In general, daughters who grow up with present, engaged fathers have more stable marriages and successful careers.
What does being an engaged father look like? Of course, it means being present. It means going to recitals, being involved at school, and helping with homework and other activities. It also means taking the time to be intentional in how we communicate with our daughters. The words our daughters hear from us can make all the difference. Here are a few things every daughter needs to hear from her father.
"I love you and always will."
You've heard that "actions speak louder than words." It's true: what you do is important. But it doesn't mean you can neglect saying the words. Our actions should reinforce what our daughters hear over and over.
As we all know, there are many things in this world that will shake a young woman's confidence and faith. But one thing she should never doubt is whether or not she is loved, both by God and by her father.
In Romans 10, Paul reminds us of the importance of our words. The gospel, he writes, needs to be spoken: "And how are they to believe in him of whom they have never heard? And how are they to hear without someone preaching" (Romans 10:14)? In the same way, our love needs to be vocalized to be understood. Yes, we can "live it" with our actions, but eventually, we have to say those three little words. Our daughters need to know that—just like God's love for us—our love has no end.
"I'm here for you and always will be."
When our daughters are young, they come to us with small things: things like bumps and bruises, hurt feelings, and problems with schoolwork. As they get older, the problems get more complex. As fathers, we aren't perfect and won't always have the right answers, but we should always be there to listen.
When our daughters think of us, they should think of safety. "No matter how dark and difficult the situation may seem, my dad will always be there to help me." Isn't that the picture of our heavenly Father? We can come to Him with anything—our fears, our doubts and problems, big or small. He's there to listen and point us in the right direction. We owe the same to our daughters whom God has placed in our care.
"I'm proud of who you are and what I know you will become."
My daughter just finished third grade. I wasn't able to attend her awards day, but when I saw her with her certificates for A/B Honor Roll and Good Behavior, you better believe I told her I was proud. Being proud of your children's accomplishments is important. But even more important is your children knowing that you are proud of who they are. If you only praise the former, what happens when they fall short?
Fathers, whenever you see your daughter display kindness, humility, respect, generosity, love, or courage, let her know you are proud. And, occasionally, we should say it for no reason at all. If you've ever been praised this way by a parent, boss, or spouse, you know how empowering and life-giving it can be.
"You are beautiful inside and out, and nothing will change that."
Some experts will tell you that you shouldn't tell your daughter she's beautiful. They say that praising something considered innate like beauty sets them up for failure. It focuses them on outward appearances and what other people think at a young age. There's truth there, but as we all know, beauty goes beyond what's on the outside. We need to recognize all of the qualities that contribute to our daughter's beauty.
I've always thought my children were so cute they should be in commercials. As my daughter has grown, it's her enthusiasm, her joy, and her zest for life that make her who she is.
I know that God knit her together in her mother's womb. He's the Creator, and she's one of his many masterpieces. We marvel at the beauty of a sunset and the splendor of snowcapped mountains. We should marvel at our children as well, and tell them about it.
"For the LORD sees not as man sees: man looks on the outward appearance, but the LORD looks on the heart" (1 Samuel 16:7). In the same way, our daughters need to know that we recognize just how amazing they are, inside and out.
"You have a purpose, and God wants to use you."
One of the greatest roles we have as parents is showing our children how much God loves them and how He has a plan and purpose for their lives. We were all created with special gifts, talents, and abilities—not for our own benefit and enjoyment, but to serve others and grow God's kingdom here on earth.
I've written before about Proverbs 22:6: "Train up a child in the way he should go; Even when he is old he will not depart from it." It's a hard verse to understand and explain, and I'm certainly not a biblical scholar. But in my view, the verse isn't the faith guarantee that many people use it as. Rather, I believe it's an urging for us as parents to guide our children in finding God's purpose and plan for their lives.
God has designed each of us and prewired us to do something big for His glory. One of the most important things a father can do for his daughter is to tell her this simple truth and then help her find her purpose.
---
Brent Rinehart is a public relations practitioner and freelance writer. He blogs about the amazing things parenting teaches us about life, work, faith and more at www.apparentstuff.com. You can also follow him on Twitter.
Photo credit: ©Getty Images/yacobchuk