5 Things I Wish I Knew Before I Became a Mom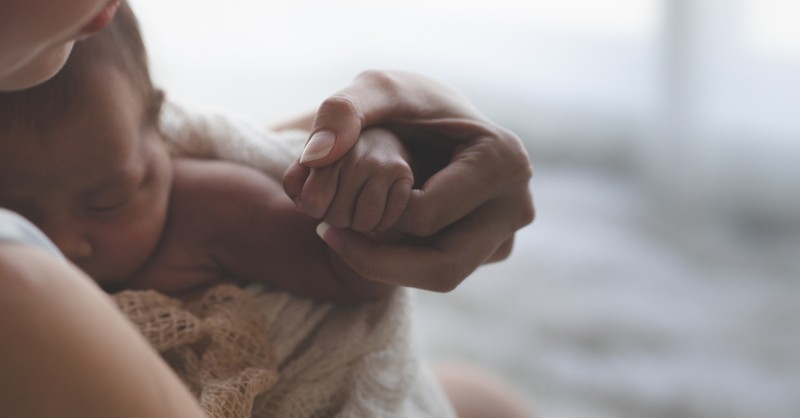 I became a mama on the cusp of the New Year. We actually prayed our son would be the first baby born in 2011 because then we could score some major swag, including a year's supply of diapers. It's a thing.
But we learned right away that parenthood would never follow our intended plans. After twenty-five hours of labor and three hours of pushing, I was rushed to the OR for an emergency C-section. Baby's vitals were dropping, as well as my own, and before I knew it, I was gazing into the eyes of this tiny human who made me a mommy.
I'm sure I cried. At least, I think I did. I was so physically drained and out of it that everything had become a blur. I remember my husband bringing our beautiful son to my side. Leaning toward him in wonder, I whispered my first words as a new parent. "Hey, there, little boy… I'm your mama." He turned toward my face and pressed his soft mouth against my cheek. It was our first kiss, and I knew, right then and there, that even though things were not going the way I had hoped, it was worth it. Everything would be worth it.
The Fairytale of New Motherhood
The next few days were spent making sure baby and I were recovering well. I kept waiting for the 'new mom euphoria' to kick in, for the fog to clear and the pain to subside. But all I felt was exhaustion. Becoming a mom was nothing like I expected. The movies were wrong. TV had lied to me. Nobody told me about the aftermath of birth or the roller coaster of hormones that followed. All I knew was that I never felt more unqualified to do anything in my life.
Discharge day arrived, and as they wheeled me to the hospital entrance, I was handed finely-tuned instructions in a perfect little bag—all papers and rules and schedules to follow. But I never received what my heart needed most—the promise of God's grace for every moment of motherhood. In those overwhelming minutes before heading home, I wish a fellow mama would have grabbed me by the hand and told me it was going to be okay. Not because I'd learn how to keep it all together, but because my God would hold me tight when things would fall apart.
Sweet friend, I can't rewind the clock to the moment you became a mom. But I can offer you words from the One who was standing there beside you: "The faithful love of the Lord never ends! His mercies never cease. Great is His faithfulness; His mercies begin afresh each morning." (Lam. 3:22-23 NLT)
No matter how many years we've been in the trenches of parenthood, we all need to be refreshed by God's truth daily. So, I made us a list. It should have been included in our newbie mom bag, but to be honest, its relevance still rings true today.
Five Things Every New Mom Needs to Know:
1. In your weakness, He is strong.
The pressure is gloriously off, mama. You don't have to fear weaknesses or failing as a parent because our good God has you covered. In every area, no matter how many times we fall, He will be there not only to pick us up but to build us up! You can do this because HE can do this through you.
2. You may not do everything right, but you are righteous.
It's true, even when you don't feel like it sometimes (or most of the time). When God says He made Jesus, "who knew no sin to be sin on our behalf, so that we might become the righteousness of God in Him," we can accept it as a divine fact! (2 Corinthians 5:21 NASB) We mess up. Hard. No mama will ever be perfect, but the moment we start to tear ourselves down, we need to remind ourselves to look up. We need to cast our gaze toward heaven and claim Christ's righteousness as our own. We are in Him. We are clothed in white, completely holy and pure. When God sees us, He doesn't see our mistakes. He sees His Son's majesty. Remember that, mama.
3. You are chosen for such a family as this.
There will be times you wonder if someone else should have filled your shoes as your child's mother. Don't take the bait. The enemy wants to make you step back or step down in order to destroy your family. He will whisper accusations and lies laced with blame to try and make you break. But you have a Savior who has already taken on the punishment of sin and has silenced the voice of shame. You were chosen for this role. God hand-picked you to be the right mom for the right child for the right period in time. God didn't make a mistake by making you a mom. He knew what He was doing, and He will continue to be faithful to equip you and guide you as you lean into Him.
4. Everything you do matters.
Many days you may feel unappreciated and overlooked. The demands of motherhood may seem, at best, mundane. But in reality, you are doing the sacred work of raising warriors and worshippers. You are fulfilling the greatest commandment and the great commission simultaneously. You are loving unconditionally and giving unceasingly, all for the sake of building up God's kingdom within the walls of your own home. There is no greater calling. There is no greater thing. Your family is your heartbeat, and continually pointing them toward their Savior will create disciples who will change the face of eternity. What a difference you are making!
5. You are loved unconditionally and never alone in your struggle.
Sometimes you may feel like nobody else is struggling the way you are—like you are alone in your arduous journey. Yes, it can be challenging to make mom friends, but God has never forsaken you. Jesus is with you in the grocery store, at the doctor's office, and at the dining room table. I can promise you He never stands there shaking his head at you in disapproval as you struggle. Why? Because we've already been approved by God. We've already gained His favor and unconditional care by the death of Christ on the cross. No matter what we have or haven't done, our worth remains the same in our Father's eyes. The verdict is final and finished.
Grabbing Fresh Mercies Daily
With so many aspects of parenthood being unpredictable or unplanned, these eternal certainties are sure to stand the test of time and trials. Our faithful God wants His children to claim their fresh mercies every morning, whether motherhood is new or old. It's the beauty of the gospel – the hope by which our hearts are firmly held.
Let's embrace God's grace, mama, and say amen!
Photo credit: © Getty Images/x-reflexnaja
Becky Beresford lives in Huntley, IL and is happily outnumbered by her husband and three wild boys. She is a writer and speaker with a Master's Certificate in Discipleship from Moody Theological Seminary. Becky loves encouraging God's Daughters to embrace their truest selves in Christ and walk out the gospel truths empowered by God. She would love to connect with you online at BeckyBeresford.com, where you can grab a FREE copy of the Brave Woman Manifesto: Five Things to Tell Yourself When Life Gets Hard. Feel free to follow her and the weekly Brave Women Series on Facebook | Instagram | Twitter.