Be Generous
Whitney Hopler

Live It Editor

2002

18 Jun

COMMENTS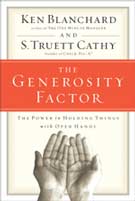 Giving often involves sacrifice - of your time, money, or energy. Sometimes it can hurt. But if you decide to be generous, the resulting rewards will more than outweigh the costs.
Think about it. God is generous with you, pouring out His love into your life in unlimited ways. Your generosity opens doors for God's power to flow through you into other people's lives, enriching both you and the people you help.
Here are some ways you can strive to be generous:
Remember that God owns everything, and that He has made it possible for you to acquire all you have. Make an inventory list of your blessings, taking a few minutes to write down everything you can think of for which you're grateful (be sure to include non-material blessings, such as friends and health, as well as material ones, such as a house or car). Then study the list to realize how much you have, and tell God how thankful you are for it all. In gratitude, let your response be generous giving.
Ask God to help you give cheerfully. If you're motivated by guilt, a sense of obligation, or a desire to get something in return, don't give. Instead, give because you truly want to help people and it brings you genuine joy to do so.
Look for opportunities to give everyday. Make it a habit to be proactive at finding needs that you can help meet. Relish the thrill and sense of fulfillment you enjoy when God uses you to touch someone else's life.
Be courageous. When you sense God leading you to help someone, go ahead and do so. Remember that good intentions don't help anyone, but faithful actions do.
Trust God to enable you to help other people regardless of your current circumstances. If you don't have much money, perhaps you could give some of your time. If you possess a special talent, God will make a way for you to use it to contribute to others.
Focus on spiritual significance rather than worldly success. Accept God's unconditional love for you. Don't worry about attaining a certain level of achievements, wealth, or status. Rest in the assurance that God loves you for who you are, and be content with your current circumstances in life. Resist pressure to constantly strive to do more or earn more if God isn't leading you to do so, and be willing to give up your rights and resources if necessary to help others. Remember all that Jesus gave up on the cross so that He could save the world - the ultimate act of generosity.

Adapted from The Generosity Factor: The Power in Holding Things with Open Hands, copyright 2002 by Ken Blanchard, S. Truett Cathy, and the Blanchard Family Partnership. Published by Zondervan, Grand Rapids, Mich., www.zondervan.com, 1-800-727-3480.
Ken Blanchard is an internationally known management consultant, organizational leader, and the author or coauthor of 12 books, including The One Minute Manager. S. Truett Cathy is the founder and chairman of Chick-fil-A, a national chain of fast-service restaurants, and founder of the WinShape Center Foundation, a charitable organization for youth.
What challenges sometimes keep you from being generous? When you are generous, how does God bless you? What are some of the ways you strive to be generous to others, and why? How has someone else's generosity recently blessed you? Visit Crosswalk's forums to discuss this topic by clicking on the link below.