Create a Comfortable Home
Whitney Hopler

Live It Editor

2001

21 Aug

COMMENTS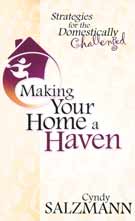 Your home can be a haven from the chaotic world outside - a peaceful, joyful, setting in which you can find renewal.
You may actually enjoy maintaining your home. Or, perhaps, you would choose to get a root canal at your dentist's office over cleaning bathrooms and organizing closets anytime. However you feel about running a household, though, it is possible to create a comfortable home while using your time and energy wisely.
Here are some ways you can do so:
Commit to a regular quiet time of prayer with God each day, if you aren't already meeting with Him that way. Ask God to give you a vision of your home as a comfortable place that will bless you and your family. Then ask Him to help you devise a plan for transforming your home to fulfill that vision.

For a week or so, keep a record of how you spend your time so you can study your patterns to see how you might be more productive. Ask God to reveal how He would like you to set your priorities. Then eliminate activities that don't reflect those priorities, and set goals that do reflect them.

Get rid of clutter. Buy some boxes to use to sort your belongings. Then choose one room in your home, and go through your stuff, separating it into categories such as trash, things to recycle, things to give away, things to repair and things to relocate to a more logical place in your home. Commit to doing this for at least a few minutes every day, and when you're finished with one room, move to another, until you've dealt with the clutter in every room.

Think about the freedom you can enjoy when you don't have the stress of a disorganized home. Ask God to show you how to streamline each area in your home to allow you and your family to use it most efficiently. Assign each item in your home a place in which you can easily access it, except for things in your children's rooms. Give your children some freedom to order their rooms as they would like, as long as the rooms are reasonably clean. As you organize your home, remember that it doesn't need to be perfect. Strive to just keep things simple.

Devise a system for handling the flood of paper that comes into your home on a regular basis. Each time a new piece of paper enters your household, sort it into its proper place in a file labeled with the appropriate category, such as bills to pay, articles to read, coupons to clip or scrapbook souvenirs to save.

Share dinner together as a family on a regular basis. Brainstorm ideas for meals your family would enjoy. Make lists of ingredients you'll need before going shopping. Block out times to cook several or even many meals in advance, then freeze them so they'll be ready quickly when you need them.

When cleaning each room in your home, work from top to bottom. Apply cleaning products, give them time to work while you do another task, then finish the job. Whenever someone in your household makes a minor mess (such as spilling juice on the kitchen floor), clean it up right away. That way, you'll have less of a mess to deal with later.

Bring the beauty of nature into your home. No matter what the season, place plants in various rooms, such as flowers in your dining room or pine boughs from evergreen trees in your living room. Use scents from candles, potpourri or air fresheners to bring nature's fragrances into your home.

Practice hospitality by sharing your home with others.

Adapted from Making Your Home a Haven: Strategies for the Domestically Challenged, copyright 2001 by Cyndy Salzmann. Published by Horizon Books, Camp Hill, Pa., www.christianpublications.com, 1-800-233-4443.
Cyndy Salzmann is a freelance writer and public relations consultant who lives her husband and three children in Omaha, Nebraska.