Find Wholeness as a Multiracial Person
Whitney Hopler

Live It Editor

2002

23 May

COMMENTS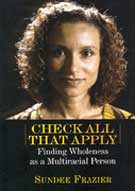 You know the forms that ask you to check the box next to your race: Asian? African? Caucasian? Latino? But what if you're multiracial, and tired of society trying to fit you into boxes that leave you feeling left out?
Here are some ways you can find wholeness as a multiracial person:
Realize that your core identity is in Christ. As a member of God's family, you belong and are fully accepted. Strive to live a life that helps people see Christ living in you. Then when they look at you, they'll focus more on Christ than your skin color or other physical attributes.
Know that each part of your racial heritage is important and planned by God. You are not an accident. Every person is made in God's image, and each race reflects different aspects of God, shining His light through people as if through a prism.
Take all your negative feelings about being multiracial to God. Express your anger, sadness, and other feelings about discrimination, confusion, and other experiences openly and honestly. Then ask God to help you see yourself as He sees you, and have confidence in that image.
Confess your prejudices against people of other races and cultures, then ask God to change your heart toward others who are different from you and help you genuinely love them. Seek God's help in forgiving people who have hurt you because of their prejudices.
Thank God for creating you in His image, and ask Him to transform you more and more into His likeness spiritually. Pray for grace to grow in some specific areas of your life. Remember that you can't change your racial makeup, but you can change your character, and character is ultimately much more important.
Make serving others a regular practice in your life. As you reach out to other hurting people, you'll become a channel through which God's love can flow, building meaningful connections between you and others.
Learn about your family history and study the cultures that are represented in your racial heritage. This will help you develop a greater sense of roots.
Ask God to use you as a peacemaker between the various racial communities to which you belong.

Adapted from Check All That Apply: Finding Wholeness as a Multiracial Person, copyright 2002 by Sundee Tucker Frazier. Published by InterVarsity Press, Downers Grove, Ill., www.ivpress.com, 1-800-843-4587.
Sundee Tucker Frazier belongs to a black, white, biracial family. She has worked with InterVarsity Christian Fellowship over the past 10 years. She lives in Los Angeles with her husband Matt.
Are you multiracial? If so, what challenges do you face as a multiracial person, and what are some aspects of being multiracial that you enjoy? Visit Crosswalk's forums to discuss this topic by clicking on the link below.