Halloween: Trick or Treat?
Whitney Hopler

Live It Editor

2001

26 Oct

COMMENTS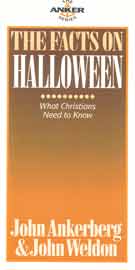 Every Oct. 31, many children eagerly dress up in costumes and go from house to house "trick or treating" for candy and other goodies. Most Christian parents wouldn't dress their children in ghoulish costumes or encourage them to perform tricks that could hurt others. They're just looking for a bit of fun for their children - fun that can seem innocent enough.
But some Christian parents warn that Halloween really isn't so innocent, and that it's best to abstain or find an alternative activity on Oct. 31.
Here are some reasons why it might not be wise to participate in Halloween:
Halloween originated as a pagan holiday, and it's still considered the most sacred night for those involved in the occult. Much evil is committed on that night by people who delve into the evil side of the spiritual world.
Halloween customs are derived from pagan practices and carry with them all the symbolism that points to those dangerous practices. Children who carve Jack-o-lanterns, dress up in costumes, go trick or treating and tell ghost stories are unwittingly identifying themselves with the pagan practices from which those customs were derived.
Halloween doesn't glorify God; in fact, it is dedicated to the spirits who oppose Him. God wants Christians to walk in light rather than darkness.
Halloween encourages people's interest in the occult, promoting its values subtly and not-so-subtly. As Scripture says, everything is permissible, but not necessarily beneficial.
Adapted from The Facts on Halloween by John Ankerberg and John Weldon, copyright 1996 by The John Ankerberg Show. Published by Harvest House Publishers, Eugene, Ore., www.harvesthousepubl.com, 1-888-501-6991.
John Ankerberg is host of the nationally televised "The John Ankerberg Show." He has master's degrees in divinity and church history and the philosophy of Christian thought, and a doctorate degree from Luther Rice Seminary. John Weldon has authored and co-authored more than 60 books and has master's degrees in divinity and Christian apologetics, and a doctorate in comparative religion.
Does your family participate in Halloween? Why or why not? If not, what alternative activity do you participate in? Visit Live It's forum to respond, or read what others have to say. Just click on the link below.