Integrate Your Faith and Work
Whitney Hopler

Live It Editor

2001

18 Nov

COMMENTS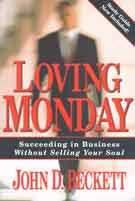 Work consumes a great deal of time and energy, no matter what your job. It's a major part of your life, and a part that God wants to use. You don't have to be a professional minister to serve God through your work. By performing your job faithfully, you can bring glory to God through any profession. And in the process, you'll grow to love the work you do.
Here are some ways you can integrate your faith and work:
Ask God to help you understand what job is best for you. Choose a job that enables you to use the gifts God has given you to influence the people He wants you to reach and challenges you to keep growing as a person. If you're not currently in the right job, pray for God to open the door to a better one. If you are in the right job, ask God to ordain you for service there by sending you the grace you need to perform well.
Work toward a greater goal than simply a good bottom line. Rather than just trying to make money, strive to contribute your talents to the world to bring glory to God.
Pursue integrity and excellence in whatever you do at work. Remember that God is your ultimate boss, and seek to please Him.
Balance work with other aspects of your life. Make sure you give God the highest priority in your life, and also allocate significant time to family and friends.
When interacting with other people, view them as God does - His children, made in His image. Take the time to fully listen to them and strive to serve them well, whether they're customers or coworkers. Remember that even little interactions -- such as brief phone conversations -- matter a lot. Don't view yourself according to your position in a company's hierarchy, but rather as a person on equal footing with everyone else before God.
Show compassion for people, and balance that compassion with accountability, to help people grow. For example, if you're a manager who needs to terminate an employee, you should do so if it's best for the company. But you can explain why to the employee and provide severance pay and outplacement services to help the employee find another job.
When you encounter trouble, pray about it, and respond as God leads you. When you make mistakes, take the time to study what went wrong and learn how you can do better in the future.
If you own a business, consider how you might use your business' resources to contribute to the world in ways beyond just your regular work. Donate money to worthy causes, give your employees opportunities to serve in the surrounding community, and speak out corporately on public policy issues.
If you own a business, set employee policies that reflect biblical values when you can. For example, to encourage families to spend time together, limit the amount of time employees are required to travel. Also, offer employees opportunities to express their faith in the workplace on a strictly volunteer basis, such as through praying with a workplace chaplain or participating in prayer sessions or Bible studies.
Adapted from Loving Monday: Succeeding in Business Without Selling Your Soul, copyright 2001 by John D. Beckett. Published by InterVarsity Press, Downers Grove, Ill., www.ivpress.com, 1-800-843-4587.
John D. Beckett is president of the R.W. Beckett Corporation in Elyria, Ohio, which, with its newer affiliates, is one of the world's leading manufacturers of components for residential and commercial heating systems. He also founded Advent Industries, a manufacturing company to provide training for those who are hard to employ.
Do you enjoy your job? Why or why not? How have you recently been able to serve God through your job? Visit Live It's forum to respond, or read what others have to say. Just click on the link below.