Keep Christ in Christmas
Whitney Hopler

Live It Editor

2001

13 Dec

COMMENTS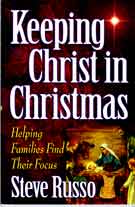 Santa, shopping, entertaining - these are just a few of the many things that can crowd out Christ on Christmas. You don't necessarily need to avoid traditional holiday celebrations. You just need to incorporate your
faith
in Christ into them so you can enjoy the Christmas God wants you to have.
Here are some ways you can unwrap the ultimate gift - God's gift of Christ to the world - at Christmas:
Plan a birthday party for Christ. Throughout December, think and pray about what you might give Him as a present. Consider what would please Him -- perhaps some type of change you could make in your life or some way you could serve others. Then, on Christmas Day, offer that as your birthday gift. You may also want to celebrate Christ's birthday with a cake, balloons, and other party trappings on Christmas Day.
Whenever you're considering whether or not to participate in a Christmas activity, ask yourself if it glorifies God. If not, your time is better spent on something else.
Make prayer a priority throughout the Christmas season. Ask God to use the time to help you know Him better and grow more as a person.
Think about the reasons behind holiday traditions so you're aware of how they relate to Christ. For example, tell your children about St. Nicholas, a Christian bishop whose life helped inspire the Santa Claus legend.
Emphasize giving rather than consuming. Don't just think about the pleasures of parties, presents, and food for their own sakes. Instead, think about the generosity they express, and the power of God's love to motivate people to be generous. Decide to be generous yourself, by giving your time, money, energy, and attention to people around you.
Talk with others about what Christ is doing in your life, and be willing to answer their questions about how they can experience a relationship with Him. Remember that people are often more open to talking about spiritual things during Christmas than at any other time of the year.
Adapted from Keeping Christ in Christmas: Helping Families Find Their Focus, copyright 1999 by Steve Russo. Published by Harvest House Publishers, Eugene, Or., www.harvesthousepubl.com, 1-888-501-6991.
Steve Russo is an evangelist, author, featured speaker for the television program "24/SEVEN," and host of the nationally syndicated radio show "Real Answers." He is also a professional drummer who speaks to thousands of students and parents each year in crusades, churches, schools, and prisons.
Do you struggle with keeping your focus on Christ during the Christmas season? What are some effective ways you've found to stay focused on the true reason for the season? How has focusing on Christ's birthday enriched you spiritually at Christmas? Visit Live It's forum to respond, or read what others have to say. Just click on the link below.