Let God Move You
Whitney Hopler

Live It Editor

2002

3 Jun

COMMENTS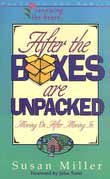 Moving involves much more than just transitioning from one home to another. It's packing up your old life and starting a new one that's often drastically different from all that's familiar to you.
It's easy to become overwhelmed by all the work a move requires - packing and unpacking boxes, notifying everyone you know of your new address and telephone number, opening up new utility accounts, etc. On top of that, the emotional strain of leaving cherished friends and family members behind and adjusting to a new job, new schools, a new church and more can prove exhausting. But if you let God guide you through your moving experience, you'll discover the strength you need to persevere and start thriving in your new home.
Here are some ways you can rely on God to help you move:
Let go of unhealthy ties to your past so you can be free to embrace your future. Realize that your only true security comes from God, not from your current home or circumstances. Honestly express your grief to God, then decide to trust Him to provide everything you'll need as you go through changes during and after the move. Know that God never changes and will always be with you wherever you go.
Cherish your memories as you move on. Let friends and family members you're leaving know how much they mean to you, and commit to staying in contact with them however you can after you move. Plan to pray for them; write, e-mail and phone them; travel back to visit; and send them gifts at Christmas and on their birthdays.
Don't try to do too much all at once. Reduce your stress by spreading out all the logistical work you must accomplish while moving. Take care of yourself by eating nutritious foods and getting plenty of rest and exercise.
Ask God to give you a balanced perspective on your move, so you don't get overly upset about any part of it. If some of your belongings get damaged during the move, for example, realize that it's not the end of the world. If it takes you longer than expected to receive your new driver's license or library card, be patient.
Be proactive about building relationships with new people after you move. Just be yourself, not who you imagine they might want you to be. Know that God loves you just as you are. Don't be afraid to take advantage of natural opportunities to introduce yourself to your new neighbors. Write down people's names, addresses, and phone numbers so you can remember them. Ask them questions. Remember that each person you meet is a potential friend. Realize that it may take a while to build close relationships, but that they will come, especially if you're proactive. To meet people right away, volunteer to help others in some way, perhaps through your new church.
Keep a file of information on resources in your new area. Whenever someone recommends a particular doctor, grocery store, hairdresser, etc., write that information down and add it to your file. Buy a map of your new area, and subscribe to a local newspaper.
Talk with your spouse, children, and any other people in your household often about how the move is affecting them. Express your thoughts and feelings openly to one another and pray about them.
Transform your new house into a home in ways such as placing a welcome mat at the front door, starting a garden in your yard, beginning a new family tradition at the new house, and displaying photos of friends and family members in each room.
Use the move as an opportunity to pursue personal and spiritual changes in your life. Ask God to show you how He would like you to make a new start, then ask Him to help you do so. Look forward to your new life in your new home!

Adapted from After the Boxes are Unpacked: Moving On After Moving In, copyright 1995 by Susan Miller. A Focus on the Family book published by Tyndale House Publishers, Inc., Wheaton, Ill., www.tyndale.com, 1-800-323-9400.
Susan Miller, who has moved 14 times, founded the Newcomers Enfolded and Welcoming (N.E.W.) ministries to support and encourage women who are going through the transition of a move. She speaks to women's groups across the nation. Susan and her husband, Bill, reside in Scottsdale, Ariz., and have two grown children.
Have you recently moved, or are you planning to move soon? If so, how did the move change your life both positively and negatively, or how do you anticipate that it will? How have you tried to rely on God's help while you undergo major transitions such as a move? What encouragement would you like to offer others who have recently moved or plan to do so soon? Visit Crosswalk's forums to discuss this topic by clicking on the link below.