What Can You Do When Preschoolers Say They're Bored?
Whitney Hopler

Live It Editor

2001

31 Oct

COMMENTS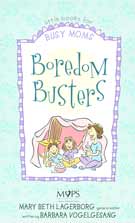 You pick up your child from preschool, and a long afternoon stretches out before you. You're in the grocery store or on a car trip and your child becomes restless. You wake up on a Saturday to discover that it's raining outside. And each time, you hear your child say those dreaded words: "I'm bored!"
What can you do? Plenty, despite having a busy schedule and limited energy. If you plan creative activities into your child's life, you can bust boredom.
Here are some ways you can combat boredom and stimulate creativity with your child:
Slow your pace down to notice the things that interest your preschooler. Ask God to help you get excited about life's ordinary moments, and know how to make them extraordinary by celebrating them with your child.
Share your own interests with your child. He or she can have fun discovering more about you. For example, don't just listen to children's music. If you like jazz, let your child dance to a favorite jazz CD with you.
Make mundane chores such as laundry into games you can your child can play together. For example, make up a funny story about the clothes you need to fold and help your child participate in the story while folding them.
Be willing to get a bit messy. You can have more fun that way, and your child can help you clean up afterward.
Equip your child with the tools he or she needs to explore. Get your child a library card, save household items to use in craft projects and fill a dress-up trunk with clothes.
Celebrate the unique aspects of each season - spring, summer, fall, and winter - through crafts, cooking projects, and other activities built around a seasonal theme. Observe obscure holidays throughout the year and commemorate fun historical dates. For example, make different kinds of sandwiches to celebrate day on which the sandwich was invented (November 3).
Celebrate the new skills your preschooler is learning - such as counting - and other milestones in his or her life - such as getting a haircut for the first time.
Give your child the benefit of frequent experiences with people outside of your immediate household. Invite friends, grandparents and others over regularly, and visit their homes. Realize that each person can enrich your child in unique ways.
Teach your child about his or her ethnic heritage. Tell stories about your ancestors let your child taste food of your ethnicity.
Help your child learn about people in your community and the different jobs they perform. When you run errands, explain the work people do in the post office, the bank, etc.
Have your child join you as you serve someone in need. Your preschooler could make a get well card for a sick person, help deliver a meal to a friend, help rake leaves for an elderly neighbor, and more.
Get silly! You can inject humor into any situation. Do some things just for the fun of it, such as designating a particular day to honor your child's favorite color (for example, if it's yellow, you both could wear yellow that day, eat yellow foods, and look for yellow wherever you go).
Rather than automatically buying your child a toy, challenge him or her to make one, then help in the process.
Pack a survival kit for when you're on the run. Include nonperishable snacks, water, toys, and books.
Adapted from Boredom Busters, copyright 2001 by Barbara Vogelgesang. Published by Zondervan, Grand Rapids, Mich., www.zondervan.com, 1-800-727-3480.
Barbara Vogelgesang has been speaking, performing, and clowning for 15 years. She has toured with Ringling Bros. and Barnum & Bailey Circus and performed throughout the United States, Canada, and Japan. Barbara and her husband, Jim, are the proud parents of Nicholas, Libby, and Sarah.
How have creative activities alleviated boredom for your child? Which activities are your favorites, and why? Visit Live It's forum to respond, or read what others have to say. Just click on the link below.