This Will Preach
Dr. James Emery White

James Emery Whiteis the founding and senior pastor of Mecklenburg Community Church in Charlotte, NC, and a former professor of theology and culture at Gordon-Conwell Theological Seminary, where he…

More

2019

Nov 14
According to the Pew Research Center analysis of the National Survey of Family Growth, marriage is declining while living together outside of marriage is rising.
Probably not a surprising headline.
But coupled with this is how most Americans now find it acceptable for unmarried couples to live together, even if they have no plans to get married. Only a very narrow majority believe there are societal benefits in marriage.
The report also explored the experiences of adults who are married and those who are living with a partner, and found that married adults express higher levels of relationship satisfaction and trust in their partner than those who are cohabiting.
Here, in more detail, were the three most significant findings:
1. A larger share of adults have cohabited than have been married. Among adults ages 18-44, 59% have lived with an unmarried partner at some point in their lives. Interestingly, the rise in cohabitation increased 5% since 2002, but the "ever married" decreased a whopping 10% over the same period. Only 53% of adults are currently married.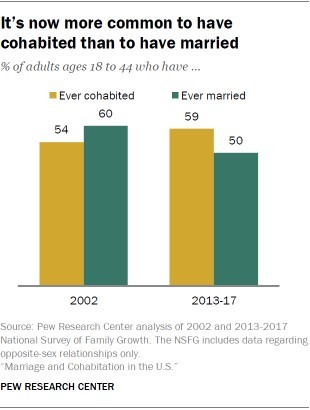 2. Most Americans (69%) say cohabitation is acceptable even if a couple doesn't plan to get married. This number jumps to 78% among those younger than 30. Only 14% say it's never acceptable for an unmarried couple to live together. Good news? Most still see societal benefits in marriage, with a narrow majority (53%) saying that society is better off if couples who want to stay together long term eventually get married. Bad news? A whopping 46% say society is just as well off if they decide not to marry.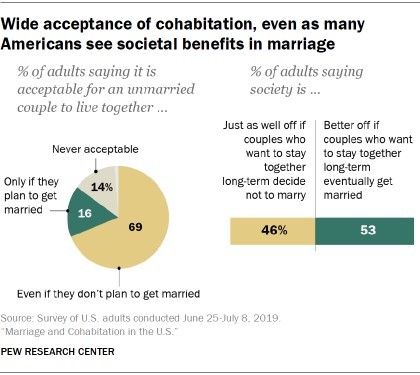 3. Married adults have higher levels of relationship satisfaction and trust than those living with a partner. This is the headline one would hope would make the news as opposed to the more clickbait-ish drop in marriage and rise in cohabitation. Anyone in support of marriage should certainly trumpet it loud and clear. When you ask cohabiting couples about satisfaction and trust, specifically if things are going well, only 41% answer in the affirmative. But when you ask those who are married if things are going well, 58% answer in the affirmative. That's quite a swing.
To sum up, there are fewer people getting married, more people living together outside of marriage, but those who choose marriage are happier than those who don't.
That'll preach.
James Emery White
Sources
Nikki Graf, "Key Findings on Marriage and Cohabitation in the U.S.," Pew Research Center, November 6, 2019, read online.
About the Author
James Emery White is the founding and senior pastor of Mecklenburg Community Church in Charlotte, NC, and the ranked adjunct professor of theology and culture at Gordon-Conwell Theological Seminary, where he also served as their fourth president. His newest book, Christianity for People Who Aren't Christians: Uncommon Answers to Common Questions, is now available on Amazon or at your favorite bookseller. To enjoy a free subscription to the Church & Culture blog, visit ChurchAndCulture.org, where you can view past blogs in our archive and read the latest church and culture news from around the world. Follow Dr. White on Twitter, Facebook and Instagram.
---