CONVENTIONAL WISDOM 

Most of us want enough wisdom to satisfy the mind, enough ethics or philosophy to satisfy the conscience, enough hedonism or pleasure to satisfy the body, enough materialism to satisfy the pocketbook, and enough religion to satisfy the spirit. Wisdom, ethics, hedonism, materialism, religion—they are contemporary, are they not? There are those today who give themselves to wisdom, those who give themselves to pleasure, and those who give themselves to wealth and power. There are those who give themselves to sex, those who give themselves to political reform, and those who give themselves to spiritual enlightenment.
Many in our day attempt to give meaning to life through a general, nebulous, non-threatening belief in God—a God that makes no requirements on the way we live. Consider the appeal of this ad that appeared in a Houston newspaper: "Most people in my generation see religion as too much of a hassle. We're finally starting lives of our own—beginning our careers, entering relationships, building our families—and we're not looking for any more burdens or responsibilities. That's how I saw religion, until I learned more about [name of the congregation]. Here was a religion that gave me room to breathe. They offer services that are relevant to my life. Their philosophy encourages me to explore my inner spirituality. And their belief in activism and social justice inspires me to look outward."
Have you ever heard such an empty, self-centered commentary? The God-as-an-accessory mentality of our modern world must offend Holy God and break His heart. The conventional wisdom of the day can never approach the mind of God. And nothing but the true and living God can satisfy the deep longing in man's heart.

MEMORY VERSE 

ISAIAH 55:8

For My thoughts are not your thoughts, neither are your ways My ways, declares the Lord. 

READ THROUGH THE BIBLE 

Luke 24; Revelation 19
Revelation 19Click here to sign up for your free Winning Walk newsletter!
OUR THANK YOU TO YOU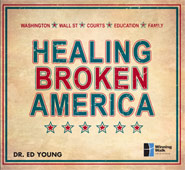 Healing Broken America
CD Series