BORN TO BE KING 

In 1940 and 1941, British author Dorothy Sayers was commissioned to write a series of plays entitled "The Man Born to be King." These plays about the life of Jesus Christ were later produced and broadcast by the BBC. But before they were ever heard, they caused quite a national stir. The language was modern. The dialogue was fictionalized. And many accused Miss Sayers of blasphemy by "personifying the Godhead" by portraying the voice of Christ over the airwaves. But when the first play, "Kings in Judea," aired in December of 1941, public response was overwhelmingly positive.
I am not surprised. You see, when it comes to sheer, powerful storytelling—nothing beats the Gospel. There is just no better story, because there is no better Storyteller. "Kings in Judea" took the Christmas story out of the church pews and into the homes of hundreds of thousands of men, women and children who somehow heard it with brand new ears.
At Christmastime and all year long, I challenge you to weave the wonder of the incarnation into every moment of every day. Tell the story. Tell it in your language. Tell it truthfully, but tell it in a way that only you can. Tell it in a gesture, a smile, a hug or a bedtime story. Tell it in a song, a gift, or a selfless act of patience. Tell it with all the wonder of an eyewitness, like Sayers' King Balthazar, who gazed into the eyes of the baby he came to honor and exclaimed, "I looked at the Child. And all about Him lay the shadow of death, and all
within Him was the light of life; and I knew that I stood in the presence of the Mortal-Immortal, which is the last secret of the
universe." Always keep looking at Jesus, and tell others what you see.

MEMORY VERSE 

For in Him all the fullness of deity dwells in bodily form.

READ THROUGH THE BIBLE 

Luke 17; Revelation 12 
Click here to sign up for your free Winning Walk newsletter!
OUR THANK YOU TO YOU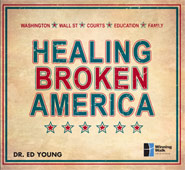 Healing Broken America
CD Series