Time to Waste
by Berni Dymet
Mark 6:31 He said to them, 'Come away to a deserted place all by yourselves and rest a while.' For many were coming and going, and they had no leisure even to eat.
This world is full of crazed individuals trying to pack more and more into their day. I'm one of them. The more technology we have and the more connected we get, the more we want to … just cram more and more into our day.
Here's a tip from someone who lives in the midst of this manic maelstrom - sometimes we have to waste a little time too. 
Even with a to-do list longer than my arm, some days, there needs to be a half hour to have coffee with a friend. Or lunch with my wife. Or a phone call to someone that God just laid on my heart to call today.
These little time wasters - they're like an oasis in the desert. Those moments of pausing from the madness - are like food for the soul. They restore some sanity and balance and….
What's the matter with us - that we imagine that somehow God put us on this earth just to finish off our to do list?! Well!!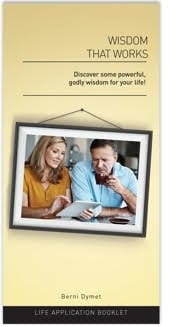 FREE Booklet - Wisdom that Works
Request your free copy of this latest Life Application Booklet from Berni Dymet, to help you grow in godly wisdom. The sort that helps you lay hold of the abundant life that Jesus came to give you. Don't miss out - available for a limited time only!