The Global "Tiredness" Pandemic 
by Berni Dymet
Matt. 11:28-30 "Come to me, all you that are weary and are carrying heavy burdens, and I will give you rest. Take my yoke upon you, and learn from me; for I am gentle and humble in heart, and you will find rest for your souls. For my yoke is easy, and my burden is light."
You know - the more that I look around, the more I see people who are chronically tired and exhausted. One of the most common answers I get to the question - "So, how are you going?" - is "Well, things are so incredibly busy."
And so our health and wellbeing suffer, our relationships suffer - we suffer, our family suffers - all because we're tired. 
It's easy to imagine somehow that this is something new. But tiredness - that deep, exhausting kind of tiredness - is nothing new.  Back in the 1st century, Jesus said to people …
Come to me all you that are weary and are carrying heavy burdens and I will give you … rest.
These weren't people living in hectic, post-industrial always connected to technology age. These were people living in the agrarian age; subsistence farmers most of them.
Doesn't matter who we are, or where we come from - we all need rest. Deep rest: the sort of rest that Jesus was talking about.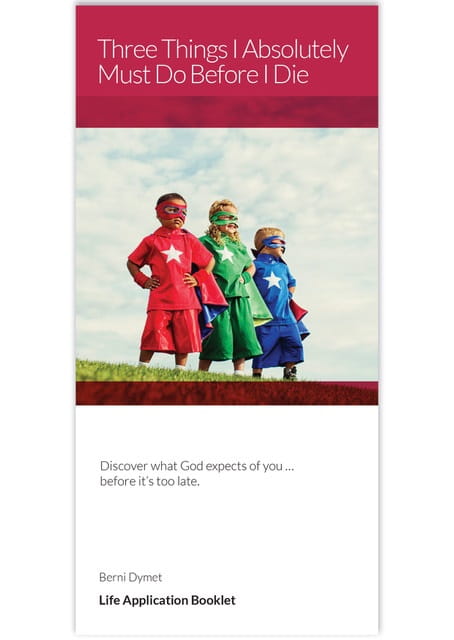 YOUR FREE BOOKLET – THREE THINGS I ABSOLUTELY MUST DO BEFORE I DIE
Here's a vital question for you to consider: If you died tonight, would you be ready for eternity? Now, many people know that it's all about having a simple faith in Jesus Christ. Nothing more, nothing less. But … do you have the sort of faith that Jesus talked about? To help you answer that question for sure, that's what our latest Life Application Booklet is all about: Three Things I Absolutely Must Do Before I Die. We would absolutely love to send you your very own FREE copy to help you make sure that you have the right answer, to the most important question of all.