from Day by Day with the Persecuted Church

And the Israelites inquired of the Lord. (In those days the ark of the covenant of God was there, with Phinehas son of Eleazar, the son of Aaron, ministering before it.) They asked, "Shall we go up again to battle with Benjamin our brother, or not?" The Lord responded, "Go, for tomorrow I will give them into your hands." (Judges 20:27-28)
Antonio Garrido
The story of Judges 20 is not that well known. The Benjamites had committed a crime and the Israelites had to take revenge. Three times they asked God if they should punish the Benjamites. Three times the Lord told them to do so.
Yet, the first two times they suffered defeat at the hands of the Benjamites. After praying and fasting they tried a third time and this time they prevailed.
We Christians in Cuba are not going to take revenge on those who have persecuted us and treated us so badly. Our suffering is spiritual, not carnal. But we too often feel defeated despite all God's promises.
The story of Judges teaches us a spiritual lesson. For the children of God there will always be new opportunities to defeat the enemy - Satan - when we keep trusting our Lord. We too have often been defeated, but it does not mean definite loss. For the children of God it will never be too late. There will always be new, spiritual opportunities to destroy the work of darkness.
Let us claim, take and declare God's final victory, despite all setbacks.
Antonio Garrido, from Cuba, shares about his life with the Lord. Despite the battle, his meditations witness to victory and faith. He writes under a pseudonym.
Copyright [C] 1995 Open Doors International. Used by permission.
Click here to sign up for a free monthly newsletter from Open Doors about persecuted Christians.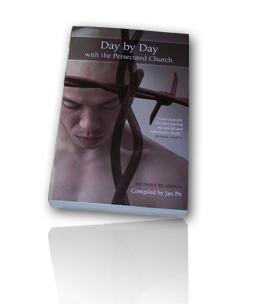 Day by Day with the Persecuted Church
compiled by Jan Pit with a forward by Brother Andrew (paperback, revised 2000)
Compelling wisdom from the pen of actual believers living amidst persecution, you'll be connected to the suffering, courage, and depth of life that exists in the harshest places in the world. Each of these 365 thought-provoking devotions will deepen your understanding of Christian persecution and provoke you to pray for our brothers and sisters with a new found depth.