from Day by Day with the Persecuted Church

If the Son sets you free, you will be free indeed. (John 8:36)
Lung Singh
He came from the eastern part of Laos, near the border of North Vietnam. A witch doctor and addicted to opium. When he was still a baby he had already received his first opium…liquid opium, which his father would give him when he cried, to calm him down and put him to sleep. A small dose, just a drop or two onto a handkerchief on which Lung Singh could suck until he fell asleep. The doses had to be increased over the years to come to satisfy his needs.
Now he came to our village - in western Laos - as a refugee from the Communist part of Laos. A poor man, without any belongings, without a home, without a future. A total wreck - at the age of forty-five. Addicted to opium in a measure that I had never seen before. More than forty-four years of drug-taking had asked a price, a high price.
It was in this situation that he found Christ. He had never heard the Gospel before, but when he heard about Jesus, for the first time in his life he made a decision: to follow that Jesus. I never forget his first prayer. He did not know how to pray, or even to whom he should pray. It was just a simple prayer - but coming from the heart of a desperate man, "Devil I have followed you for forty-five years. I have been your slave." Then Lung Singh turned around, looked to the heavens and said, "God, I want to follow you. Please accept me. I want to be your slave, forever more."
God did not make him His slave ... He made him His child, and delivered him from opium and evil spirits.
If the Son sets you free - you will be free indeed. Nothing is too hard for Him.
Writer of the Month: Lung Singh from Laos. He did not write his own contributions, but Jan Pit has edited his experiences and remarks and printed them under his name in this devotional. His life story is recorded in the book No Turning Back by Jan Pit, Marshall Pickering, 1985. According to rumors Singh was killed by his brother because of his faith in Jesus Christ.
Copyright [C] 1995 Open Doors International. Used by permission.
Click here to sign up for a free monthly newsletter from Open Doors about persecuted Christians.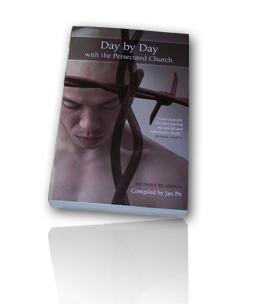 Day by Day with the Persecuted Church
compiled by Jan Pit with a forward by Brother Andrew (paperback, revised 2000)
Compelling wisdom from the pen of actual believers living amidst persecution, you'll be connected to the suffering, courage, and depth of life that exists in the harshest places in the world. Each of these 365 thought-provoking devotions will deepen your understanding of Christian persecution and provoke you to pray for our brothers and sisters with a new found depth.