from Day by Day with the Persecuted Church

Therefore I will boast all the more gladly about my weaknesses, so that Christ's power may rest on me.
(2 Corinthians 12:9b)
Paul
With these verses, Paul concludes a very impressive list of all the hardships he endured. In it he states the following:
"Five times I received from the Jews the forty lashes minus one;
Three times I was beaten with rods;
Once I was stoned;
Three times I was shipwrecked;
I spent a night and a day in the open sea;
I have been constantly on the move.
I have been in danger from rivers,
in danger from bandits, in danger from my own countrymen,
in danger from Gentiles, in danger in the city,
in danger in the country, in danger at sea, and in danger from false brothers.
I have labored and toiled and have often gone without sleep;
I have known hunger and thirst and have often gone without food;
I have been cold and naked...
Who is weak, and I do not feel weak?"
(2 Corinthians 11:24-29)
He ends his enumeration by stating, "That is why, for Christ's sake, I delight in weaknesses, in insults, in hardships, in persecutions, in difficulties. For when I am weak, then I am strong" (2 Corinthians 12:10).
What was his secret? The Word of the Lord - "My grace is sufficient for you, for my power is made perfect in weakness" (2 Corinthians 12:9a).
Is there any reason why we should complain?
No, because God's power is still made perfect in weakness. Also today.
Copyright [C] 1995 Open Doors International. Used by permission.
Click here to sign up for a free monthly newsletter from Open Doors about persecuted Christians.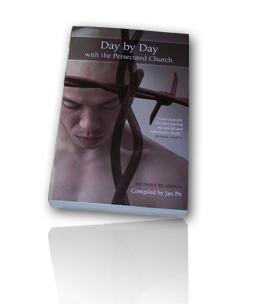 Day by Day with the Persecuted Church
compiled by Jan Pit with a forward by Brother Andrew (paperback, revised 2000)
Compelling wisdom from the pen of actual believers living amidst persecution, you'll be connected to the suffering, courage, and depth of life that exists in the harshest places in the world. Each of these 365 thought-provoking devotions will deepen your understanding of Christian persecution and provoke you to pray for our brothers and sisters with a new found depth.