from Day by Day with the Persecuted Church

The righteous suffer at the hands of the wicked. The wicked do not shrink back from anything. They do not fear God nor His commandments. The righteous clash with these wicked men. Their faith is tested. Will they join the wicked or will they continue to trust in the Lord and follow Him?
They have made their choice.
David
Rescue me, O Lord, from evil men; protect me from men of violence,
who devise evil plans in their hearts and stir up war every day.
They make their tongues as sharp as a serpent's; the poison of vipers is on their lips.
Keep me, O Lord, from the hands of the wicked; protect me from men of violence who plan to trip my feet.
Proud men have hidden a snare for me; they have spread out the cords of their net and have set traps for me along my path.
O Lord, I say to you, 'You are my God.' Hear, O Lord, my cry for mercy.
O Sovereign Lord, my strong deliverer, who shields my head in the day of battle…
(Psalm 140:1-7)
Copyright [C] 1995 Open Doors International. Used by permission.
Click here to sign up for a free monthly newsletter from Open Doors about persecuted Christians.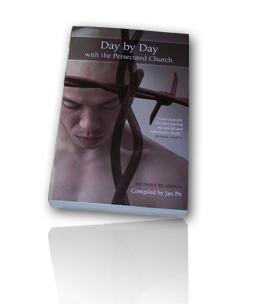 Day by Day with the Persecuted Church
compiled by Jan Pit with a forward by Brother Andrew (paperback, revised 2000)
Compelling wisdom from the pen of actual believers living amidst persecution, you'll be connected to the suffering, courage, and depth of life that exists in the harshest places in the world. Each of these 365 thought-provoking devotions will deepen your understanding of Christian persecution and provoke you to pray for our brothers and sisters with a new found depth.