from Day by Day with the Persecuted Church

I, John, your brother and companion in the suffering and kingdom and patient endurance that are ours in Jesus, was on the island of Patmos because of the word of God and the testimony of Jesus. (Revelation 1:9)
Horacio Herrera
To live on an island is very interesting and challenging. Having been born on an island myself (Cuba) I find it is interesting to meditate on John who was on the isle of Patmos. It was not an interesting place for him. He was sent there to be imprisoned, lonely, isolated. No contact with other countries, without the support of friends and family. That must have been very, very difficult for a 90 year-old man.
Yet, John not only survived, he was also given revelations that no man had ever been given before. Our God is not limited. Distances are no problem to Him. He sometimes allows us to get into a prison to reveal something very special. That sounds strange, yet true. Is it that God could not reveal these wonderful things when John was still going around preaching, teaching in freedom? That he was so busy for the Lord that there was hardly any moment to relax and listen to God?
I do not know if I understand John's attitude correctly. He must have taken much time to be with God. Yet God allowed him to be sent to a lonely place to reveal the future to him. John transformed the island into a sanctuary, his loneliness into the company of millions of angels, and his exile into the entrance of heaven.
Yes, God can change our problems into His plans.
Horacio Herrera from Cuba. Because of his leading role in the Cuban Church, he writes using a pseudonym.
Copyright [C] 1995 Open Doors International. Used by permission.
Click here to sign up for a free monthly newsletter from Open Doors about persecuted Christians.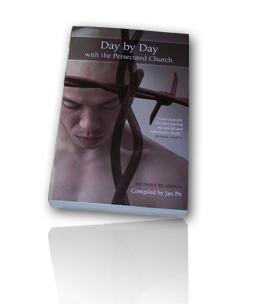 Day by Day with the Persecuted Church
compiled by Jan Pit with a forward by Brother Andrew (paperback, revised 2000)
Compelling wisdom from the pen of actual believers living amidst persecution, you'll be connected to the suffering, courage, and depth of life that exists in the harshest places in the world. Each of these 365 thought-provoking devotions will deepen your understanding of Christian persecution and provoke you to pray for our brothers and sisters with a new found depth.