from Day by Day with the Persecuted Church

If we are distressed, it is for your comfort. (2 Corinthians 1:6)
Horacio Herrera
There is an infinite and glorious harmony enclosed in these verses which is a reality for the Body of Christ, worldwide. If one is distressed, it is for the comfort of somebody else.
What does Paul mean by this? The answer is found in the preceding verses (2 Corinthians 1:3-4). God comforts Paul in his troubles so that he can comfort those in trouble with the comfort he himself received from God. If we have never been poor, how can we fully understand the situation of those who are? If we have never been in pain, how can we help those who are? Having experienced it ourselves, we can feel with others who go through that hardship today.
What a wonderful unity in the body. Even if it is dispersed throughout the world, it keeps a harmonious unity. If anyone is troubled, the other is comforted. It is almost a mystery. Our present times of suffering become your encouragement. Because we share with you, even through this book, how God has strengthened us in times of trouble. So that you can be assured that God has not forsaken us and that He will not forsake you if you may ever have to endure the hardships we have already endured.
"And surely I am with you always" (Matthew 28:20).
Horacio Herrera from Cuba. Because of his leading role in the Cuban Church, he writes using a pseudonym.
Copyright [C] 1995 Open Doors International. Used by permission.
Click here to sign up for a free monthly newsletter from Open Doors about persecuted Christians.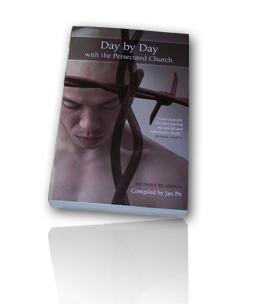 Day by Day with the Persecuted Church
compiled by Jan Pit with a forward by Brother Andrew (paperback, revised 2000)
Compelling wisdom from the pen of actual believers living amidst persecution, you'll be connected to the suffering, courage, and depth of life that exists in the harshest places in the world. Each of these 365 thought-provoking devotions will deepen your understanding of Christian persecution and provoke you to pray for our brothers and sisters with a new found depth.