from Day by Day with the Persecuted Church

If one part suffers, every part suffers with it. (1 Corinthians 12:26)
Horacio Herrera
Luke informs us in Acts 12 that Peter was imprisoned, but the church was earnestly praying to God for him. The church felt that Peter was an integral part of them and thus they felt prisoners with him. We are a universal Body of Christ. We feel joy or affliction, happiness or sadness, freedom or persecution with all the members of that Body, wherever that part of the Body may be.
The affliction of our brothers in Eastern Europe are ours, the struggles of the Christians in Muslim countries are our struggles also. The victories of the Christians in any part of the world are also our victories. "Remember those in prison as if you were their fellow prisoners and those who are ill-treated as if you yourselves were suffering." Another translation says, "since you are also in the Body."
Let us remember them today in our prayers, stretching out our hands of fellowship to them. In doing so, we can bless those who are still in prison for their faith in Jesus Christ. While praying, we feel their burdens, their hardships and their pain.
"Carry each other's burdens, and in this way you will fulfill the law of Christ" (Galatians 6:2).
Horacio Herrera from Cuba. Because of his leading role in the Cuban Church, he writes using a pseudonym.
Copyright [C] 1995 Open Doors International. Used by permission.
Click here to sign up for a free monthly newsletter from Open Doors about persecuted Christians.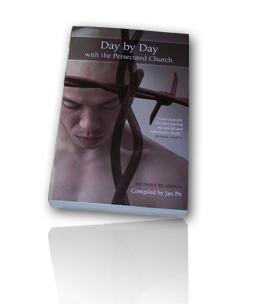 Day by Day with the Persecuted Church
compiled by Jan Pit with a forward by Brother Andrew (paperback, revised 2000)
Compelling wisdom from the pen of actual believers living amidst persecution, you'll be connected to the suffering, courage, and depth of life that exists in the harshest places in the world. Each of these 365 thought-provoking devotions will deepen your understanding of Christian persecution and provoke you to pray for our brothers and sisters with a new found depth.