from Day by Day with the Persecuted Church

These commandments that I give you today are to be upon your hearts. Impress them on your children. (Deuteronomy 6:6-7)
Grace Dube
It is not always easy to be a father and a mother at the same time. After the death of my husband I had to take that responsibility upon me. That is not easy, especially in turbulent times of political chaos and without financial security. I once heard somebody say, "We can win the world - yet lose our family." How true these words are. We can become so involved in preaching the Gospel to others, that we forget our first priority, our family. Of course, the Lord wants us to witness for Him, but it starts at home. We must let our light shine, that it may give light to all in the house.
What do our own children see of Christ in us?
I thank God that He showed me this priority. And although this is not an easy task - He does help. Some children do not get enough attention because the parents are too busy making money. They have their priorities wrong as well.
The Bible says, "Train a child in the way he should go, and when he is old he will not turn from it" (Proverbs 22:6).
Do we see this priority? And act accordingly?
May God help you and me to serve Him faithfully - starting at home.
Grace Dube from South Africa. Her husband was stabbed to death. She continues to preach his message of forgiveness.
Copyright [C] 1995 Open Doors International. Used by permission.
Click here to sign up for a free monthly newsletter from Open Doors about persecuted Christians.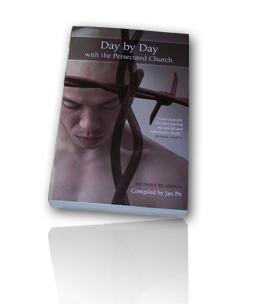 Day by Day with the Persecuted Church
compiled by Jan Pit with a forward by Brother Andrew (paperback, revised 2000)
Compelling wisdom from the pen of actual believers living amidst persecution, you'll be connected to the suffering, courage, and depth of life that exists in the harshest places in the world. Each of these 365 thought-provoking devotions will deepen your understanding of Christian persecution and provoke you to pray for our brothers and sisters with a new found depth.