from Day by Day with the Persecuted Church

Mehdi Dibaj defense - part 2
"They say, 'You are a Muslim and you have become a Christian.'"(In many Islamic countries a Muslim who becomes a Christian may receive the death penalty.)
"No, for many years I had no religion. After searching and studying, I accepted God's call and I believed in the Lord Jesus Christ. People choose their religion, but a Christian is chosen by Christ." He says, "You have not chosen me but I have chosen you."
"People say, 'You were a Muslim from your birth.' God says, 'You were a Christian from the beginning.' "A Christian means one who belongs to Jesus Christ."
In this part of his defense, Dibaj once again reaffirms his relationship with Jesus Christ, the Son of the Living God. Islam teaches that Jesus was only a prophet, not the Son of God. God does not have a Son, the Koran teaches. This is the most essential difference between Islam and Christianity. Dibaj witnesses of Jesus Christ, the Son of God. Such a witness can result in the death penalty. Dibaj realizes that, but he refuses to deny Christ.
About such people Christ says, "Whoever acknowledges me before men, I will also acknowledge him before my Father in heaven" (Matthew 10:32).
Mehdi Dibaj is from Iran. While this book was being compiled, Mehdi Dibaj had been in prison for nine years. Early in 1994 he was released, but was murdered six months later. His courtroom defense was edited to form part of this book.
Copyright [C] 1995 Open Doors International. Used by permission.
Copyright [C] 1995 Open Doors International. Used by permission.
Click here to sign up for a free monthly newsletter from Open Doors about persecuted Christians.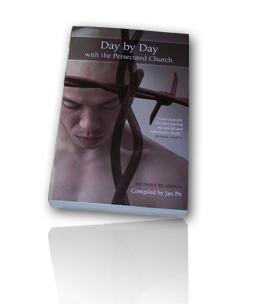 Day by Day with the Persecuted Church
compiled by Jan Pit with a forward by Brother Andrew (paperback, revised 2000)
Compelling wisdom from the pen of actual believers living amidst persecution, you'll be connected to the suffering, courage, and depth of life that exists in the harshest places in the world. Each of these 365 thought-provoking devotions will deepen your understanding of Christian persecution and provoke you to pray for our brothers and sisters with a new found depth.