from Day by Day with the Persecuted Church

Your attitude should be the same as that of Christ Jesus. (Philippians 2:5)
Pastor Zhu's wife
It is quite common that Christians have different opinions about certain matters. That is nothing to worry about. The important aspect is how we deal with differences.
Once, two Chinese brothers had different opinions. They talked about it, but soon their discussion ended in a heated argument. They both thought that their way of solving the problem was the best. The Holy Spirit spoke to their hearts, so instead of arguing about their differences they started to thank God - in prayer - for the things they agreed about - God's love, His creation, His forgiveness and grace etc. As they were praying and praising God they humbled themselves.
Their discussions ended in arguments - their prayers in union and unity. Their attitude became Christ's attitude - that of a servant.
Maybe we should talk less and pray more, and see God at work.
Sister Zhu from China is a pillar of God's house in this vast land. Due to security reasons, we cannot introduce her further to you, but her testimony speaks for itself.
Copyright [C] 1995 Open Doors International. Used by permission.
Click here to sign up for a free monthly newsletter from Open Doors about persecuted Christians.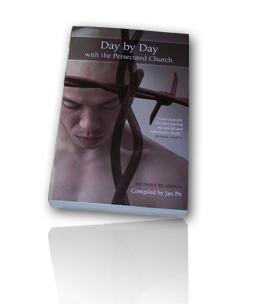 Day by Day with the Persecuted Church
compiled by Jan Pit with a forward by Brother Andrew (paperback, revised 2000)
Compelling wisdom from the pen of actual believers living amidst persecution, you'll be connected to the suffering, courage, and depth of life that exists in the harshest places in the world. Each of these 365 thought-provoking devotions will deepen your understanding of Christian persecution and provoke you to pray for our brothers and sisters with a new found depth.