from Day by Day with the Persecuted Church

Remember those in prison, as if you were their fellow-prisoners, and those who are ill-treated as if you yourselves were suffering. (Hebrews 13:3)
So Peter was kept in prison, but the church was earnestly praying to God for him. (Acts 12:5)
Remarkable Remarks -Presence of God
Nepalese Christian:
"Not, 'I was in prison and Jesus was with me,'
But, 'Jesus was in prison, and I was with Him.'"
Pastor Chen - Vietnam after five years in a re-education camp:
"Looking back, I can say that I experienced God's love in such a special way in the concentration camp, as I have not experienced at any other time in my life."
Pastor Mehdi Dibaj - Iran after his release from prison:
"God gave me the privilege to spend nine years in prison for His Name sake. They turned out to be the best years of my life, because what I had believed while free is what I experienced while in prison: Lo, I am with you always.
Also:
"It is better to stay in prison with Him, than in a palace without Him."
Also:
"Close to Jesus changes the worst prison into a paradise."
Remember those in prison, as if you were their fellow-prisoners, and those who are ill-treated as if you yourselves were suffering. (Hebrews 13:3)
So Peter was kept in prison, but the church was earnestly praying to God for him. (Acts 12:5)
Copyright [C] 1995 Open Doors International. Used by permission.
Click here to sign up for a free monthly newsletter from Open Doors about persecuted Christians.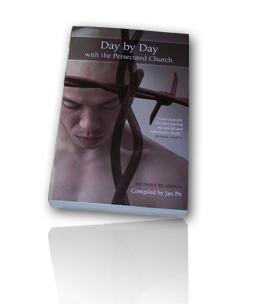 Day by Day with the Persecuted Church
compiled by Jan Pit with a forward by Brother Andrew (paperback, revised 2000)
Compelling wisdom from the pen of actual believers living amidst persecution, you'll be connected to the suffering, courage, and depth of life that exists in the harshest places in the world. Each of these 365 thought-provoking devotions will deepen your understanding of Christian persecution and provoke you to pray for our brothers and sisters with a new found depth.