from Day by Day with the Persecuted Church

Here is a boy with five small barley loaves and two small fish, but how far will they go among so many? (John 6:9)
Yang Zhang
This wonderful miracle tells us that God can do much with little. If we give Him what we have He can perform miracles. The boy could have kept the little that he had. But he gave it to Jesus. That act of obedience fed 5,000 people.
We never need to complain about the little that we have. Our Lord can use it and feed the people around us.
A Chinese friend told me one day, "Our eyes, nose, ears, mouth and heart are like five loaves. Our two hands are like two fishes. And with our two legs we go and meet the needs of the people around us."
Let us give our body and our heart into the hands of the Lord and thus become an instrument in God's service, saving many hungry people.
Writer of the Month: Yang Zhang from China. A fiery evangelist from China writing under a pseudonym for his protection.
Copyright [C] 1995 Open Doors International. Used by permission.
Click here to sign up for a free monthly newsletter from Open Doors about persecuted Christians.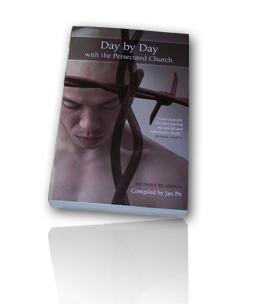 Day by Day with the Persecuted Church
compiled by Jan Pit with a forward by Brother Andrew (paperback, revised 2000)
Compelling wisdom from the pen of actual believers living amidst persecution, you'll be connected to the suffering, courage, and depth of life that exists in the harshest places in the world. Each of these 365 thought-provoking devotions will deepen your understanding of Christian persecution and provoke you to pray for our brothers and sisters with a new found depth.