from Day by Day with the Persecuted Church

I will exalt you, my God the King; I will praise your name forever and ever. (Psalm 145:1)
Naji Abi-Hashem
The Book of Psalms is among the most read and admired books in the whole Bible. While most of the Scriptures speak to us, the psalms speak for us. They express our deepest feelings. We find in them music, truth, beauty, comfort, strength, and most of all praise.
Worship is an act of the will, employing the thoughts and emotions. Besides its theological significance, praise also has a true psychological significance. On the conscious level, praise clarifies our thinking and purifies our mind. It heightens our awareness of God's presence and might. Praise helps us to dwell on the positive rather than the negative. It virtually facilitates our personal growth towards wholeness and inner balance.
On the unconscious level, praise helps us to get in touch with the unpleasant thoughts and painful memories stored within us, like anger, hurt, loss, fear, guilt, and grief. Praise brings healing to some of our damaged emotions. It slowly infiltrates our mind until it is saturated. Thus, the new sacred thoughts gradually replace the old, resulting in restoration, harmony, empowerment and growth.
Naji Abi-Hashem from Lebanon.
Copyright [C] 1995 Open Doors International. Used by permission.
Click here to sign up for a free monthly newsletter from Open Doors about persecuted Christians.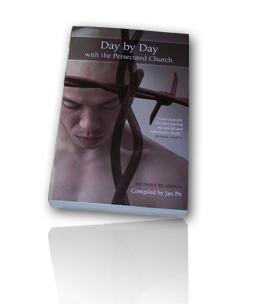 Day by Day with the Persecuted Church
compiled by Jan Pit with a forward by Brother Andrew (paperback, revised 2000)
Compelling wisdom from the pen of actual believers living amidst persecution, you'll be connected to the suffering, courage, and depth of life that exists in the harshest places in the world. Each of these 365 thought-provoking devotions will deepen your understanding of Christian persecution and provoke you to pray for our brothers and sisters with a new found depth.