from Day by Day with the Persecuted Church, 

To him who loves us and has freed us from our sins by his blood, and has made us to be a kingdom and priests to serve his God and Father - to him be the glory and the power forever and ever! Amen. (Revelation 1:5-6)
Lucien Accad
Although I do not always understand the things my God does, nor see the reasons behind the way He does them, I am glad that this is how He works. It is truly wonderful. I love the ways of the Lord.
Even though I ask questions, "Why Lord?" from deep in my heart, and while I wonder how I can carry on, I have no doubt in my soul that He knows and loves and cares. He is described as the one "who loves us," Jesus who "freed us from our sins," and at what a price. Jesus has made us to be priests to serve His God and Father.
I don't expect answers to all my questions, just the peace that comes from knowing that He loves me, the peace of being free to love Him. If I am to serve my God I cannot claim as my right an easier life than that of Jesus. No, it will be hard at times. Answers are not necessary.  All I need  is to know how to live righteously before Him and, through the sadness and trials of this terrible world, praise and glorify His wonderful, mighty name.
Lucien Accad from Lebanon. He was the Director of the Bible Society in Beirut. His house was severely damaged many times during the war in Lebanon.
Copyright [C] 1995 Open Doors International. Used by permission.
Click here to sign up for a free monthly newsletter from Open Doors about persecuted Christians.
---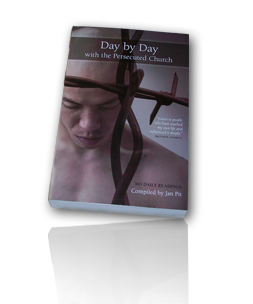 Day by Day with the Persecuted Church
compiled by Jan Pit with a forward by Brother Andrew (paperback, revised 2000)
Compelling wisdom from the pen of actual believers living amidst persecution, you'll be connected to the suffering, courage, and depth of life that exists in the harshest places in the world.  Each of these 365 thought-provoking devotions will deepen your understanding of Christian persecution and provoke you to pray for our brothers and sisters with a new found depth.
 To order your copy of this devotional, click