from Day by Day with the Persecuted Church

Trust in the Lord with all your heart and lean not on your own understanding; in all your ways acknowledge him and he will make your paths straight. (Proverbs 3:5, 6)
Abraham
The man of faith was a man of failure also. This offers encouragement to all those who want to follow God but are aware of their own frailty. It gives assurance that God is willing to use ordinary men and women. This does not mean that failure is acceptable. We can learn from Abraham's failures - in order to be aware of the snares of the devil.
In Abraham's life these failures were incidental, not fundamental. When he fell, God drew him back and Abraham responded.
"There was a famine in the land." A famine? A famine in the Land of Promise? Had Abraham made a wrong decision to come to Canaan? Abraham's faith did not waver, but his mind was not directed towards God. "He went down to Egypt." But Egypt was not the land God had shown him. Neither did God lead him to Egypt as God could have done in this time of despair. Abraham made the decision himself, without consulting God.
Such disobedience always brings complications. In the end Abraham was willing to sacrifice his wife in the interest of his own safety. If we do not acknowledge God in all our ways we will soon be filled with panic instead of peace.
There was no altar in Egypt, no fellowship with God, no new promises. Only a desolate home and a time of great distress.
How thankful we should be that the Bible records the story of the sins of the saints. Not to condone their behavior or mistakes, but to warn us that God requires implicit obedience.
Only then will we experience what Corrie ten Boom said, "The safest place on earth is in the centre of the will of God; the most dangerous place is when you are outside that will."
Copyright [C] 1995 Open Doors International. Used by permission.
Click here to sign up for a free monthly newsletter from Open Doors about persecuted Christians.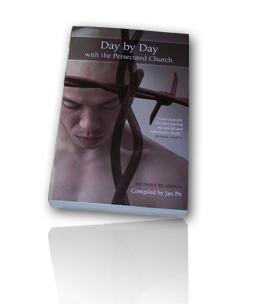 Day by Day with the Persecuted Church
compiled by Jan Pit with a forward by Brother Andrew (paperback, revised 2000)
Compelling wisdom from the pen of actual believers living amidst persecution, you'll be connected to the suffering, courage, and depth of life that exists in the harshest places in the world. Each of these 365 thought-provoking devotions will deepen your understanding of Christian persecution and provoke you to pray for our brothers and sisters with a new found depth.