from Day by Day with the Persecuted Church

Enoch walked with God. (Genesis 5:24)
Constantin Caraman
Walking with God. Can it be done today?
Was it not much easier for Enoch to walk with God? Did he not live in the "good old days?" No, those old days were not that good. They were times of change and apostasy.
In fact, people lived according to their own standards so much that it was not difficult to notice a man who had different standards, God's standards: he walked with God.
He did so in spite of the slander and temptation of the world around him.
No, it is not at all easy to walk with God. It is much easier to only believe in God in your hearts and live like the rest of the world. But that is not walking with God. That is a compromise which makes any walk with God impossible.
How then do we walk with God? By acknowledging Him in all things, in seeking Him, and living for Him.
"In all your ways acknowledge him, and he will make your paths straight" (Proverbs 3:6).
How delightful it is to walk with God in those paths.
Writer for the month - Constantin Caraman from Romania was in prison three times for his faith.
Copyright [C] 1995 Open Doors International. Used by permission.
Click here to sign up for a free monthly newsletter from Open Doors about persecuted Christians.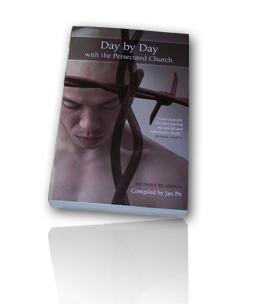 Day by Day with the Persecuted Church
compiled by Jan Pit with a forward by Brother Andrew (paperback, revised 2000)
Compelling wisdom from the pen of actual believers living amidst persecution, you'll be connected to the suffering, courage, and depth of life that exists in the harshest places in the world. Each of these 365 thought-provoking devotions will deepen your understanding of Christian persecution and provoke you to pray for our brothers and sisters with a new found depth.