from Day by Day with the Persecuted Church

What kind of suffering is David describing here? Is it sickness and other physical suffering? Or spiritual suffering and persecution? Whatever, in both cases enemies are lying in wait to take over his kingship when he dies. David's life is in danger and he cries out to God.
David
O Lord, do not rebuke me in your anger or discipline me in your wrath.
Be merciful to me, Lord, for I am faint; O Lord, heal me, for my bones are in agony.
My soul is in anguish. How long, O Lord, how long?
Turn, O Lord, and deliver me; save me because of your unfailing love.
No one remembers you when he is dead. Who praises you from the grave?
I am worn out from groaning; all night long I flood my bed with weeping and drench my couch with tears.
My eyes grow weak with sorrow; they fail because of all my foes.
Away from me, all you who do evil, for the Lord has heard my weeping.
The Lord has heard my cry for mercy; the Lord accepts my prayer.
All my enemies will be ashamed and dismayed; they will turn back in sudden disgrace.
(Psalm 6)
Copyright [C] 1995 Open Doors International. Used by permission.
Click here to sign up for a free monthly newsletter from Open Doors about persecuted Christians.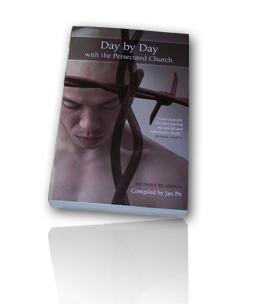 Day by Day with the Persecuted Church
compiled by Jan Pit with a forward by Brother Andrew (paperback, revised 2000)
Compelling wisdom from the pen of actual believers living amidst persecution, you'll be connected to the suffering, courage, and depth of life that exists in the harshest places in the world. Each of these 365 thought-provoking devotions will deepen your understanding of Christian persecution and provoke you to pray for our brothers and sisters with a new found depth.