Escape for the Scapegoat [Part 2] - Daily Good News with Alan Wright - January 17

Escape for the Scapegoat [Part 2]
Are you ready for some good news?
Since Jesus willingly became a scapegoat, you never need to be one.
Today's text: "And Aaron shall lay both his hands on the head of the live goat, and confess over it all the iniquities of the people of Israel, and all their transgressions, all their sins. And he shall put them on the head of the goat and send it away into the wilderness by the hand of a man who is in readiness." (Leviticus 16:21, ESV)
There were two goats on the mysterious Hebrew Day of Atonement.
We often preach about the goat that was slaughtered to pay for the sin of the people. We know that goat. Its blood is the payment for our debt – the way of salvation.
But there was a second goat. The second goat wasn't killed. Instead, the people shifted their shame to the innocent animal and sent it to the wilderness to live alone.
Figuratively, a "scapegoat" is a person willing to bear a burden that is not his or her own. A scapegoat has no clear, personal boundaries.
Once a year, my city offers a public service called "Large Item Pickup." For one week, city residents are allowed to place bulky items like old gas grills, lawn mowers, or furniture at the curbside for city trucks to pick up and haul off to the landfill. But what it actually has become is a hilarious junk swap week.
As soon as I put my junk at the curb, pick up trucks start cruising by to inspect it. Most of the stuff at the curb is long gone before the city truck ever makes it around!
Picture this by way of analogy. I have a gas grill on my back patio. No one, except a thief, is going to come to my back patio during "Large Item Pickup" and take my gas grill. There is no confusion. The stuff on the street is available for pick up. The stuff behind my house is not.
The moment that I decide to put the gas grill at the curb, everyone knows it's available for public consumption. That's what happens figuratively for the scapegoated person.
Scapegoats have blurred, unclear boundaries. It's as if all their "stuff" is on the curbside. When we're healthy, we give our time, our energy and our resources as God leads us. When we are being used as scapegoats, our time, energy and resources are taken.
You aren't a scapegoat. You aren't destined to roam aimlessly carrying others' burdens for them. You don't need to carry anyone's shame; only Jesus can do that. And that's the Gospel!
---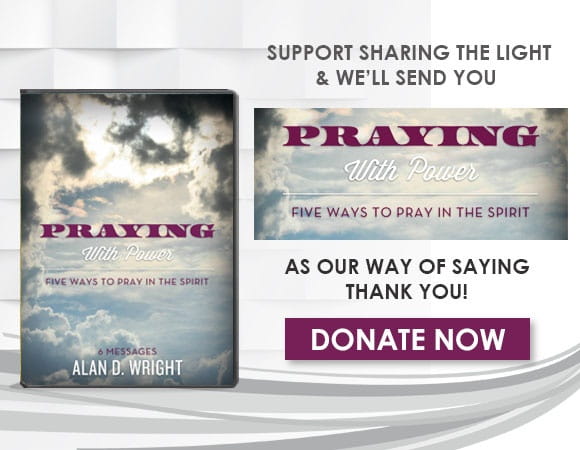 For more information please visit SharingtheLight.org.