Beyond Symbolism
"To the abandoned child wailing in the city street, the mother weeping over her stillborn infant, the man moaning in the torture cell, the parent with no food or medicine to give a dying child, the Indian hunted down by ranchers' dogs, the one betrayed by a friend--to all the wounded and suffering, despised and dishonored, the Gospel points to Jesus and says, 'Behold your suffering, behold your God!'" —Theodore W. Jennings
Just before the Last Supper, the night before His death, Jesus needed to make a point to His disciples: You need to be sacrificial servants. So He took out the cloth and the wash basin and washed the grimy feet of His followers. It was powerfully symbolic. A real attention getter: the "haymaker" that made His lecture a knock out. Washing feet? Yes, it was the perfect conclusion to the message that He was communicating to His somewhat remedial disciples.
"Now that I, your Lord and Teacher, have washed your feet, you also should wash one another's feet. I have set you an example that you should do as I have done for you. I tell you the truth, no servant is greater than his master, nor is a messenger greater than the one who sent him. Now that you know these things, you will be blessed if you do them." —John 13:14-17
They got the message. The sermon was over.
Or was it?
What if the foot washing wasn't just a "lesson illustration?" What if Christ's actions weren't just symbolic? What if the foot washing was authentic—an extension of who Jesus really is?
I worry sometimes that Christian "faith" has become too theoretical and not enough actual; practical Christianity has been put in a symbolic box—particularly the things that require sacrifice and suffering. But again, Christ's suffering and our suffering are a shared experience. His sacrificial service to us cost Him His life. Our sacrificial service to each other and the world is also costly. But it's the real deal! And suffering as servants brings about a freedom because it's actually an extension of who we really are in Him.
Dear Jesus, I don't want to live in the theoretical. Lord, I believe that I am in You and that You are in me. Live through me today as a sacrificial servant in a practical way. May this be another experience that we can share together that will add unity to our relationship as we love the world together. Amen.
Listen to Pete, Jill & Stuart Briscoe on the Telling the Truth broadcast at OnePlace.com
SPECIAL OFFER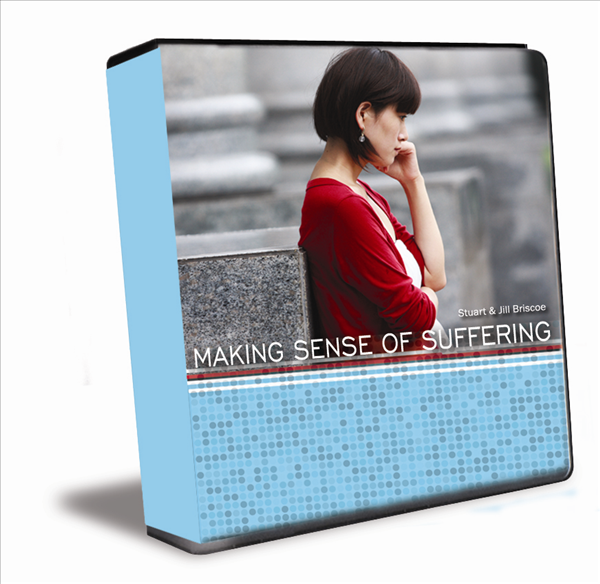 We want to help you make sense of suffering…
God is great. God is good. It's sung as a hymn and taught to children as a prayer. But we're not always sure we believe it! Why? Because of suffering. We see real devastation in our own families and across the world and think, "Either God is not so great, or He's not so good."
In this 2-message series called Making Sense of Suffering, Stuart and Jill Briscoe turn to Scripture to show you why God allows suffering, what good can come from it, and what happens when you accept the unacceptable.
Making Sense of Suffering is our gift to thank you for helping others experience real Life in the midst of their suffering. So please request your copy when you give to Telling the Truth today.