The power of Christ's resurrection
"Our Lord has written the promise of resurrection, not in books alone, but in every leaf in springtime." —Martin Luther
Sunday morning the disciples were still locked away in hiding. The body of Jesus was still sealed securely in the tomb… or so they thought.
At some point in the night or early morning, Almighty God the Father and God the Holy Spirit performed a miracle. Molecule by molecule they defied the natural laws. They were restructuring cell walls, purging toxins, replacing decayed biochemicals, expelling the microscopic scavengers… until the body was ready once again.
And with a breath, the soul and Spirit of Christ came to earth again. Emmanuel again. God in the flesh, alive, again! Supernatural? By all means it was. God's business is supernatural—re-creating, reversing decay and destruction, and giving new life. God's business is resurrection, and those who are in Christ are part of it, right here, right now:
We were therefore buried with him through baptism into death in order that, just as Christ was raised from the dead through the glory of the Father, we too may live a new life. If we have been united with him like this in his death, we will certainly also be united with him in his resurrection. For we know that our old self was crucified with him so that the body of sin might be done away with, that we should no longer be slaves to sin— because anyone who has died has been freed from sin. Now if we died with Christ, we believe that we will also live with him. —Romans 6:5-8
This is all part of the incredible mystery of life "in Christ." It's hard to explain… perhaps even impossible to describe, but when we see this resurrection in action, it's undeniable. A couple of years ago, right after Easter, this email said it all:
Dear Pete,
It was 7 years ago Easter weekend that I was at the end of my downhill spiral. I had just spent the weekend choosing drugs over life, and the custody of my first son, and felt as though I had nothing left to live for. I cannot describe the overwhelming peace and joy that I experience today! I was allowed to serve at two services and attended the third. It It's like there is no other place I belong on Easter morning…
Chemical abuse, abortion, desperation—and then one day someone introduced her to the risen Christ. Today she walks with Him in forgiveness and grace and shameless worship. If you really want to see the resurrected Jesus, just look at people like her, because she, somehow, was resurrected with Him, too.
Jesus, this is really too amazing for my mind to absorb, but You are God, able to do far more than I could ever comprehend. By faith, Lord, I accept what You say is true—that my old self was crucified and that I have been raised with You for new life in You. Make this mystery a reality in my life today! Amen.
Listen to Pete, Jill & Stuart Briscoe on the Telling the Truth broadcast at OnePlace.com
SPECIAL OFFER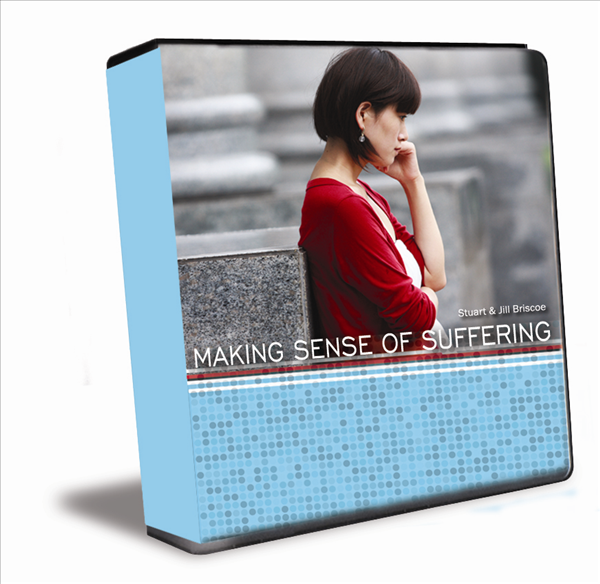 We want to help you make sense of suffering…
God is great. God is good. It's sung as a hymn and taught to children as a prayer. But we're not always sure we believe it! Why? Because of suffering. We see real devastation in our own families and across the world and think, "Either God is not so great, or He's not so good."
In this 2-message series called Making Sense of Suffering, Stuart and Jill Briscoe turn to Scripture to show you why God allows suffering, what good can come from it, and what happens when you accept the unacceptable.
Making Sense of Suffering is our gift to thank you for helping others experience real Life in the midst of their suffering. So please request your copy when you give to Telling the Truth today.