When you have lost hope, you have lost everything. And when you think all is lost, when all is dire and bleak, there is always hope. – "Henri," I am Number Four by Pittacus Lore
To hope is to be human. We hope our lives have a purpose. We hope our dreams come true. We hope – like the child who has painstakingly scribbled upon paper – that someone will find us acceptable and hang our art on the refrigerator door.
But if you are like me, then just as hope takes root, thoughts from the past whisper in my ears, taking me prisoner again. Yes, the shackles are just whispers, yet powerful all the same. Get real, Pete. Your hope will remain forever out of reach. Your dreams will be realized by someone else. No one on earth cares.
Our hopes are shackled by the lie that this is all there is: limitations, restrictions, and boundaries. Our prison is not just hope deferred; it is hope extinct. Can there be a darker place?
As a prisoner, do we dare hope for the words we long to hear? "You are free. There is more for you than what exists right here. This place of bondage is not your home." Absolutely! Because these same words of hope were prophesied in days of old and proclaimed by Jesus:
He has sent me to bind up the brokenhearted, to proclaim freedom for the captives and release from darkness for the prisoners, to proclaim the year of the LORD's favor. (Isaiah 61:1-2)
Let Jesus' purpose be the mantra of your hope. Let these words – which you dared to hope for – fan the flame of your freedom. Then watch as that freedom burns away despair and gives rise to joy.
As death is defeated and life is reborn.
As obstacles crumble and opportunities rise.
As fears are loosened and dreams revived.
Yes, let your joy rise in hope from the ashes – unchecked in the presence of freedom.
Jesus, You came to set the prisoners free from a place that has been all too familiar to me. I have been the strictest of all wardens, keeping myself paralyzed by fear. I have been afraid to follow You out of this place and into the unknown lands of freedom – where boundaries are not drawn and the law does not confine. Lead me, Lord. And set fire to the path behind me so I might never return. Amen.
Listen to Pete, Jill & Stuart Briscoe on the Telling the Truth broadcast at OnePlace.com
SPECIAL OFFER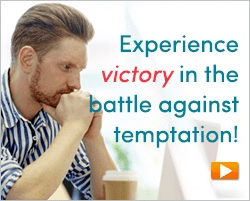 Experience victory in the battle against temptation!
Everyone struggles with sinful desires and selfish motives. So how do you fight against those temptations—permitted by God and promoted by Satan—when your soul feels like a battlefield?
We want to help you experience victory in the battle against temptation by sending you the 4-message teaching series, Triumph Over Temptation, by Stuart, Jill, and Pete Briscoe. This series will equip you with Life-changing biblical truth, so you can turn the next opportunity to do wrong into a powerful opportunity to do right!