December 8
Waiting for the Lord
How many days are left until Christmas? Are you counting? Do you need more time to get ready, or are you young enough to be itching with impatience?
It's hard to wait, isn't it? Sometimes I'm a very impatient person—I don't like sitting around in doctors' offices, standing in long lines, or crawling in traffic.
How hard it must have been for the people of Israel to wait for the promised Messiah. As the centuries dragged on and their national fortunes sank, they must have been tempted to think that God had given up on his plan, or worse—given up on them. As the "b.c." years came to an end, they had no king, no armies, and no independence. But—"When the time had fully come, God sent his Son, born of a woman, born under law, to redeem those under law, that we might receive the full rights of sons" (Galatians 4:4,5).
Our God is an on-time God. He showed that his Word could be trusted about the coming of the Messiah. Through faith in him, you receive the full rights of adoption into the royal family. You can trust his promises to love, help, and forgive you too.
---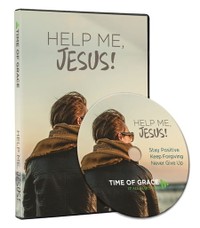 Help Meet the Challenge Grant!
A group of generous friends has stepped forward with a $350,000 Challenge Grant. This means any gift you give to Time of Grace this month will be worth twice as much to share the timeless truths of God's Word with others!
This three-part DVD focuses on looking to God when you're struggling with issues like forgiving others and persevering through trials. And the prayer book helps you put your struggles and concerns into words—and turn them into prayers to God.
The Help Me, Jesus! set is our thank-you for your donation to help us continue telling others of the forgiveness they have through Jesus. Request your copy today!
For more from Time of Grace visit them at TimeofGrace.org or visit their OnePlace.com and LightSource.com pages!