April 28 
The Importance of Right Motives 
1 Samuel 17:20-40
David found King Saul's hefty reward for Goliath's defeat interesting—in fact, he asked to have it repeated twice (vv. 26, 30). Money, freedom, and a pretty girl would make almost any teenage boy take notice! However, though David was young, he was not foolhardy. The reward was a nice perk, but it wasn't the young shepherd's motivation.
David's reason for standing against Goliath was to serve the Lord. The boy openly expressed his disdain for the giant: "For who is this uncircumcised Philistine, that he should taunt the armies of the living God?" (1 Sam. 17:26). Challenging the chosen nation, Israel, was the same as defying the Lord Himself. David was prepared to defend Yahweh's holy name and His people, even against this fearsome warrior. A right and holy motive gives a person confidence to obey God, even if doing so defies human wisdom.
It is possible for believers to seek victory over life's Goliaths with wrong motives. A lot of reasons that sound good are actually selfish. I'm tired of being in this mess. Or Lord, I can't run away, so You'll have to remove this problem. Some people try to bargain their way out of tight spots: If I had more money, then I'd give more to the church. Those promises are rarely fulfilled.
The right motive for facing a problem is a desire to follow, serve, and honor God, no matter what. Life's Goliaths do not just tax our comfort or wellbeing; these  challenges can impede our obedient walk with the Lord. He will give victory to those who stand strong in His name.
For more biblical teaching and resources from Dr. Charles Stanley, please visit www.intouch.org.
Click here to watch Dr. Charles Stanley & In Touch Ministries Video Online
and
click here to listen to Dr. Stanley at OnePlace.com.
FEATURED RESOURCE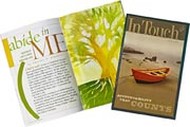 In Touch Magazine
Stories that Inspire, Teaching that Renews
If you like Dr. Charles Stanley's radio program, TV broadcast and books, then you'll love his free, award-winning monthly magazine. It's full of informative resources that will touch your heart and invigorate your faith. Every month, In Touch magazine brings readers daily devotionals from Dr. Stanley, in-depth Bible studies, inspiring articles and insightful teaching to help strengthen your family and your relationship with God. Click below to start your free subscription to In Touch magazine. 

Used with permission from In Touch Ministries, Inc. © 2009 All Rights Reserved.