In Touch Daily Devotional
by Dr. Charles Stanley
---
April 30, 2008 – Megaphones for Christ – 1 Thessalonians 1
Welcome to the In Touch Devotional.
Many thousands of people cheer and scream as loudly as they can at a professional sports event. Some believe their shouts were actually willing their teams to victory. People certainly get excited about their favorite teams. How many believers do you know who put that same passion and intensity into their faith? How often do you proclaim the saving truth of Jesus Christ as loudly as a football fan proclaims his allegiance?
In his letter to the church at Thessalonica, the apostle Paul rejoices in the young congregation's passion for telling the world about Christ. The city was a busy seaport. Paul knew the church there had the ear of the whole world. Travelers would hear the gospel and then take it back to their own communities.
By saying the word of the Lord had "sounded forth" from the church, Paul painted a powerful word picture in 1 Thessalonians chapter 1:8. Long before microphones and loudspeakers, a long, curved device known as a sounding board was used to amplify a public speaker's voice. So Paul was praising the Thessalonians for being a living megaphone that proclaimed Christ.
If you're a "fan" of Jesus, then you have the responsibility of sharing with the world who He is and what He has done. Shout it from the rooftops! Fill entire stadiums with the thunder of your praise! Don't just show the people around you who your favorite sports team is. Make sure they know who your Savior is too.
FEATURED RESOURCE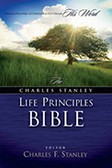 The Life Principles Bible
This Bible combines the wisdom of Scripture with the principles that guide Dr. Stanley's life and empower his ministry. Order your copy.
To see more resources from In Touch Ministries, please visit us at www.intouch.org or go directly to our bookstore at In Touch Ministries.