August 26, 2008
Handling Praise
Proverbs 27:2
We've all experienced how encouraging a word of praise can be. Most of us can remember a time when a parent, teacher, or employer voiced approval that motivated us to even greater heights.
Yet for many people, praise is nearly as difficult to handle as criticism. Because the Word of God instructs us to be humble (Matt. 18:4; Phil. 2:3), we may sometimes feel confused about the right way to give or receive compliments.
How, then, should we accept recognition? 
Acknowledge the comment by simply thanking the person. Don't belittle the words in any way or explain reasons why you do not deserve them. 
Identify and acknowledge the character quality that led the other person to offer his praise. For example, does he have a discerning spirit, deep compassion, or strong love for others? 
Share what the encouragement means to you. If someone tells you how he enjoyed your teaching, you might say, "That really motivates me to study harder; I want to be what God desires of me." 
When appropriate, deflect the praise to others. For instance, a pastor might redirect kind words about an effective worship service by acknowledging the wonderful staff that works with him. When you rightly praise others, it builds their self-esteem while protecting you from pride.
Both criticism and pride can develop us or be dangerous to us. Our response is the determining factor.
FEATURED RESOURCE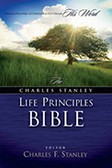 The Life Principles Bible
This Bible combines the wisdom of Scripture with the principles that guide Dr. Stanley's life and empower his ministry. Order your copy.
To see more resources from In Touch Ministries, please visit us at www.intouch.org or go directly to our bookstore at In Touch Ministries.