In Touch Daily Devotional
by Dr. Charles Stanley
---
August 27, 2007 – Worship Before the Wrath – Revelation 5
            Some people are embarrassed by worshipping the Lord in public. They wonder what the person behind them will think of their actions. But the way we currently show God adoration and honor is practice for our worship in heaven. Today's passage describes a time of intense praise before Jesus Christ sweeps the wicked from the earth and restores His kingdom.
            The cause for celebration is the breaking of seals. In today's verses, John sees a scroll in God's hand with writing on the front and back and seven unbroken seals. Each time a scroll was used, the writer unrolled it to a blank section and recorded his message. He then resealed it with hot wax. This left a trail of broken seals on the papyrus. There's some debate as to what this scroll of God represents. But the simplest explanation is that it details events that will take place after Jesus returns, events that cannot begin to unfold until the seals are broken.
            The book of Revelation is clear about who can break the seals. Only Jesus Christ, who became a perfect sacrifice for the world, is worthy to judge those who live on earth. When He takes the scroll from God's hand, all of heaven will worship.
            In John's vision, everyone in heaven honors Jesus for redeeming the world. Whether playing instruments, speaking praise, or bowing down, all sing a new song. Believers will be there, singing with the angels and the saints who have gone on previously. Embarrassment will be forgotten in the wonder of Christ's presence.
FEATURED RESOURCE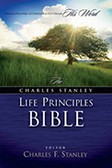 The Life Principles Bible
This Bible combines the wisdom of Scripture with the principles that guide Dr. Stanley's life and empower his ministry. Order your copy.
To see more resources from In Touch Ministries, please visit us at www.intouch.org or go directly to our bookstore at In Touch Ministries.