February 13-14 
The Power of Love 
Luke 15:11-24
At times, those of us reading Scripture in English are short-changed by the language's limitations. For instance, English has just one word for love, whereas Paul's original letters, written in Greek, use two words. Believers are promised that God's love will reside in them (Eph. 3:19). But they often think that refers to a brotherly concern and affection for others (phileo). In fact, the Holy Spirit shows agape love in us—a commitment to another person's satisfaction, security, and development. We have the same capacity for sacrificial love that Jesus showed at Calvary.
Jesus subtly described the power of sacrificial love in His parable of the prodigal son. The father must have recognized that greed and wanderlust were gnawing at the young man—and that denying his request for an early inheritance would lead to bitterness. So, despite personal and financial sacrifice, he gave the son his share. Then, the father waited patiently while the prodigal learned his lesson.
No doubt that was a trying time—a good dad wants to protect his children from making mistakes! But a wise man also knows that people often must discover hard truths for themselves. Sometimes the most loving thing we can do is to get out of their way.
The prodigal son returned home dirty, contrite, and seeking a place in the servants' quarters. What he received instead was the full force of his father's love and instant restoration to his place as the master's son. That is agape, and it is the kind of love that wins hearts and minds for the Lord.
EXTRA COLUMN: A hymn about God's love
I Will Sing of My Redeemer 
I will sing of my Redeemer, 
  And His wondrous love to me; 
On the cruel cross He suffered, 
  From the curse to set me free.
I will tell the wondrous story, 
  How my lost estate to save, 
In His boundless love and mercy, 
  He the ransom freely gave.
I will praise my dear Redeemer, 
  His triumphant pow'r I'll tell, 
How the victory He giveth 
  Over sin, and death, and hell.
I will sing of my Redeemer, 
  And His heav'nly love to me; 
He from death to life hath brought me, 
  Son of God with Him to be.
(Chorus)
Sing, oh, sing of my Redeemer, 
   With His blood 
         He purchased me, 
On the cross He sealed my pardon, 
    Paid the debt, and made me free. 
Lyrics: Phillip Bliss, 1876 
Music: James McGranahan, 1877
For more biblical teaching and resources from Dr. Charles Stanley, please visit www.intouch.org.
Click here to watch Dr. Charles Stanley & In Touch Ministries Video Online
and
click here to listen to Dr. Stanley at OnePlace.com.
FEATURED RESOURCE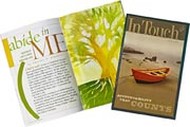 In Touch Magazine
Stories that Inspire, Teaching that Renews
If you like Dr. Charles Stanley's radio program, TV broadcast and books, then you'll love his free, award-winning monthly magazine. It's full of informative resources that will touch your heart and invigorate your faith. Every month, In Touch magazine brings readers daily devotionals from Dr. Stanley, in-depth Bible studies, inspiring articles and insightful teaching to help strengthen your family and your relationship with God. Click below to start your free subscription to In Touch magazine. 

Used with permission from In Touch Ministries, Inc. © 2009 All Rights Reserved.