In Touch Daily Devotional 
by Dr. Charles Stanley
---
January 31, 2007
God's Pathway to Success
Too often, Christians shy away from the whole idea of success. Some are just grateful for whatever the Lord gives them. These misguided believers have confused success with greed and discontent! This happens because of our overwhelming obsession with the world's definition of success. 
For most people, success is equivalent to wealth and power. If you asked the average person on the street whether he's successful, there's a good chance he would talk about his career or investments. He may even make a passing reference to his "15 minutes of fame." Many people simply cannot view success outside of these terms.
Yet the heavenly Father calls His children to live triumphantly. If the pursuit of success were sinful, how could God have made the promise of Joshua 1:7? Was He promising money? No. Was He promising fame? No. The Lord was promising success.
For Joshua, success was defined as military victory, steadfast faith, and the fulfillment of God's promise to Moses. Joshua wasn't concerned with money or fame; rather, he was intensely focused on fulfilling God's plan for him. Armed with the power of the Word, Joshua boldly marched ahead and received the Lord's blessings. And for that, God called him a "success."
Do not be confused. The world's trappings have nothing to do with spiritual success. Your family, relationships, integrity, faithfulness . . . these are the things that matter in life. When you place your emphasis on these things, you'll discover the godly way to measure success.  
FEATURED RESOURCE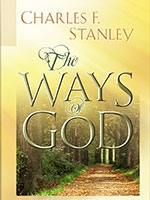 The Ways of God
from Dr. Charles Stanley
God's ways are always perfect, and following them leads to fulfillment and success. One of life's undeniable truths is that your choices will ultimately determine your future. While you can decide for yourself what career field to enter or who to marry, nothing compares with seeking God first and relying on the wonderful principles of His Word. In this series, Dr. Stanley teaches that as you serve God and seek His ways, you'll be blessed with peace, wisdom, and guidance for the journey ahead. Order here  now!
To see more resources from In Touch Ministries, please visit us at www.intouch.org  or go directly to our bookstore at In Touch Ministries.