In Touch Daily Devotional
by Dr. Charles Stanley
---
January 9, 2008 – God's Greatness—A Source of Comfort  - Psalms 89:1-10 
            David's heart-felt cries for help fill the Psalms. His prayers are a blend of requests and worship that recall the Lord's greatness, power, and protection. Praying with a recognition of God's amazing attributes reminds us that He has the wisdom, strength, and compassion to meet all of our needs. 
            "Where can I go from Your Spirit? Or where can I flee from Your presence?" (Psalm 139:7). God is everywhere. He is not limited by time or space, which means that we have never been away from His awareness for so much as a single moment. Even when we feel isolated or friendless, we are not alone, because God's presence covers the world. 
            "Great is our Lord and abundant in strength; His understanding is infinite" (Psalm 147:5). God knows everything. When we bend our knees to pray, He is already aware of the feelings and needs we are about to mention. So we can be certain that when we ask for direction, He will provide clear guidance if we are submitted to His will.
            "With [God] there is no variation or shifting shadow" (James 1:17). God's character is constant. Since we can always trust that He will be faithful, reliable, and merciful, we're able to place confidence in Him in any situation. 
            When a believer recalls an attribute of God that meets his need, he places the focus of his prayer on the Lord rather than on the request. By mixing praise into our prayers, we end up asking for less, worshipping better, and receiving more because our emphasis is in the right place.
FEATURED RESOURCE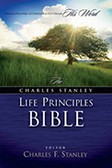 The Life Principles Bible
This Bible combines the wisdom of Scripture with the principles that guide Dr. Stanley's life and empower his ministry. Order your copy.
To see more resources from In Touch Ministries, please visit us at www.intouch.org or go directly to our bookstore at In Touch Ministries.