Monday, July 28, 2008  -   God Uses the Wicked  -  Genesis 37
When evil people affect our lives, we often wonder how God could  permit such a thing. Humanly, the question makes sense. But it's possible that we won't ever understand the reason wickedness was allowed to tough us.
However, the Lord gives several assurances to sustain us during these times. First, God reminds us that His ways and thoughts are higher than ours. Then, He provides insight into His character. He reminds us that "the Lord is good; His loving-kindness is everlasting and His faithfulness to all generations". And finally, our heavenly Father promises to work all things for the believer's good.
We can also be reassured by the biblical record. There we often find the plans of the wicked actually furthering the Lord's purpose.
For example, Joseph's brothers sold him into slavery. God used this seemingly impossible situation for good. The young man was sold to Potiphar, one of Pharaoh's officials. Joseph found favor in his service and was promoted.
Again, the Hebrew servant suffered when Potiphar's wife had him imprisoned on false charges of adultery. The Lord also worked this circumstance for good. In time, Joseph's actions in jail resulted in recognition, release, and promotion to a high position. He then was able to spare Egypt and his own family from the devastation of a severe famine.
We live in a fallen world. All of us will be affected by evil people. Knowing God's Word and understanding His character give us hope and endurance to persevere during those times.
FEATURED RESOURCE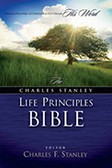 The Life Principles Bible
This Bible combines the wisdom of Scripture with the principles that guide Dr. Stanley's life and empower his ministry. Order your copy.
To see more resources from In Touch Ministries, please visit us at www.intouch.org or go directly to our bookstore at In Touch Ministries.