June 12, 2009
The Character of a Good Soldier 
2 Timothy 2
In 1 Timothy 6:12, Paul called on his disciple to "fight the good fight of faith." As was true then, believers today are in a three-front war against the flesh, the world system, and Satan. The apostle described a soldier's actions as a reminder to prepare for daily spiritual battle.
A good soldier is strong in Christ. Paul knew that the Lord had stood by his side and strengthened him during trials (2 Tim. 4:17). The Holy Spirit provides the courage and power to obey God's commands, so we can rely upon His might to carry us to victory against any enemy.
A good soldier shares. Paul was particularly interested in believers spreading their knowledge. Not only does the church possess the truth of the gospel; it has all the riches of God's Word. Many people have listened to years' worth of biblical teaching and experienced the Lord interceding in their lives. To keep those lessons to oneself can leave another soldier without necessary armor or ammunition.
A good soldier is willing to suffer. Hardship is part of combat and, therefore, part of the Christian experience. Believers will endure adversity and be asked to make sacrifices. It is little wonder, then, that Paul reminds Timothy to stand strong in the Lord and to uphold others.
A wise commanding officer gives his troops a war cry that encourages their hearts and emboldens their steps. Paul had one to "Remember Jesus Christ" (2 Tim. 2:8). Keep in mind that you serve an omnipotent Lord. He stands beside you, takes part in your suffering, and holds you securely through the most dreadful battles.
For more biblical teaching and resources from Dr. Charles Stanley, please visit www.intouch.org
and
click here to listen to Dr. Stanley at OnePlace.com.
FEATURED RESOURCE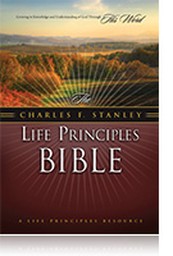 The NASB Life Principles Bible
You can now read the Scriptures in Dr. Stanley's favorite teaching translation -- the New American Standard -- while learning the 30 Life Principles that have guided him for more than 50 years. The new NASB Life Principles Bible will enhance your personal study time through explanation of key passages, plus helpful resources like "Answers to Life's Questions," concordance, maps, and much more. Available in leather and hardcover. 

Used with permission from In Touch Ministries, Inc. © 2009 All Rights Reserved.