June 9, 2009
The Pathway of Faith
Isaiah 55:8-9
Looking at difficulties from a human perspective can make us panic. It may be ill health, a financial crisis, or a broken relationship that causes our hearts to tremble. But God calls us to view life with eyes of faith.
To live in this way means believing that through Christ, God will meet all of our needs—including love, security, and acceptance (Phil. 4:19). Divine love for us was demonstrated at the cross; there, Jesus died for our sins so we might be forgiven and reconciled to the Father. His affection for us is so deep that we can never reach the end of it (Jer. 31:3; Eph. 3:18).
Then, because of our position in God's family, we are eternally secure: all who believe in the Savior are adopted as children of the heavenly Father, with full rights and privileges of heirs (Rom. 8:17). And our adoption is permanent, since it is based on Jesus' atoning sacrifice (Heb. 7:27).
What's more, the presence of the indwelling Holy Spirit is evidence that the Father has accepted us. His Spirit acts as a seal and guarantee of our position in Christ (Eph 1:13). Even though earthly relationships may crumble, our union with the Lord is forever. He is able to keep every one of His promises—and He will never let you down.
When we are convinced that God will provide for us, our approach to life changes. Then, we live not by sight (which tells us to worry) but rather by faith in the One who saved us (2 Cor. 5:7). The pathway of trust in the Lord is available to all who have received Christ as Savior. Are you walking on it today?
For more biblical teaching and resources from Dr. Charles Stanley, please visit www.intouch.org
and
click here to listen to Dr. Stanley at OnePlace.com.
FEATURED RESOURCE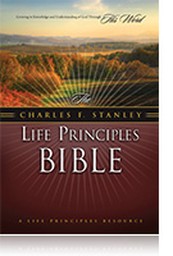 The NASB Life Principles Bible
You can now read the Scriptures in Dr. Stanley's favorite teaching translation -- the New American Standard -- while learning the 30 Life Principles that have guided him for more than 50 years. The new NASB Life Principles Bible will enhance your personal study time through explanation of key passages, plus helpful resources like "Answers to Life's Questions," concordance, maps, and much more. Available in leather and hardcover. 

Used with permission from In Touch Ministries, Inc. © 2009 All Rights Reserved.