November 1-2, 2008
When In Need
Hebrews 4:16
We all have needs, which range from physical and emotional to spiritual. When you require some essential—whether food, water, acceptance, or understanding—where do you turn?
When something basic is missing in your life, it's very easy to feel alone. But remember, God knows what you need even before you tell Him. Hebrews 4:13 states, "There is no creature hidden from His sight, but all things are open and laid bare to the eyes of Him…"
Some people might find this intimidating, as if a "big brother" is watching. But the Lord is a compassionate and loving heavenly Father who cares for His children. He is our shepherd, guiding us gently through life and redirecting us when we stray (Ps. 23). Furthermore, He desires to meet our needs and always does what is best for us (Rom. 8:28).
Our Father is ready and able to work in our lives. And He tells us to come confidently to His throne, bringing our requests to Him. In other words, because we, as Christians, have access to Him through Jesus, we are able to present our desires and struggles freely and without fear. And we can expect an answer. We might receive exactly what we ask, or perhaps God will tell us to wait. Sometimes the answer will be no. But we can be sure that even then, He is acting in our best interest—in His omniscience, He will withhold what He knows would ultimately harm or hinder His children.
The Lord knows where you are and what you need. Share your hurts and desires honestly with Him.
FEATURED RESOURCE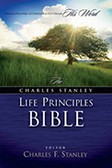 The Life Principles Bible
This Bible combines the wisdom of Scripture with the principles that guide Dr. Stanley's life and empower his ministry. Order your copy.
To see more resources from In Touch Ministries, please visit us at www.intouch.org or go directly to our bookstore at In Touch Ministries.