Weekend: October 11-12, 2008 
Who Is This Christ? 
Colossians 1:15-20
People often find it hard to understand who Jesus is and why He came. Scripture provides the explanation, which really isn't that difficult to grasp.
Jesus did something that had never been done before: He enabled man to see God in a new way. Colossians 1:15 says that Jesus is the "image of the invisible God." No one has ever looked upon the face of the Almighty. While some people were confronted with God, they were never able to look fully upon His glory.
For example, even Moses, who is described as God's friend (Ex. 33:11), could not look directly at the Lord. At best, Moses had the opportunity to look upon "God's back" as He passed by, but never His face. (Ex. 33:18-23).
In Colossians, however, we learn that Jesus is "the image of the invisible God" (1:15). He came to bridge the gap between the Father's pure, holy glory and mankind's sinful nature. The key here is the word "image"—the Greek "eikon" gives us the familiar term "icon." Just as an icon on your computer screen directs you to the main program, so Jesus points believers to the fullness of God's glory.
As the "icon," Jesus is the exact reflection of God. Therefore, the Lord could say, "I am the way, and the truth, and the life; no one comes to the Father but through Me." And He could further proclaim, "He who has seen Me has seen the Father" (John 14:6, 9).
Jesus enables us to look upon the very face of God in all of His glory. What an amazing honor! Praise God today for His Son, who has brought us into the presence of the Holy One.
FEATURED RESOURCE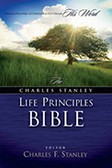 The Life Principles Bible
This Bible combines the wisdom of Scripture with the principles that guide Dr. Stanley's life and empower his ministry. Order your copy.
To see more resources from In Touch Ministries, please visit us at www.intouch.org or go directly to our bookstore at In Touch Ministries.