In Touch Daily Devotional 
by Dr. Charles Stanley
---
October 14, 2006 Why Does God Allow Trials? 1 Peter 1:6-7
What purpose could God possible have in allowing us to face terrible trials? First, God allows trials to test our faith. He does not test our faith with the expectation that we will fail. Instead, His intention is for us to learn greater dependence on Him and have increased assurance in His power over the world. Unproven, untried faith is not worth much. How do we know what we can endure in life if our faith has not been tested?
The second reason the Lord allows us to face difficulty is to display His sustaining power for His children. As we've seen before, everyone—Christians and non-Christians—go through painful periods in life. By drawing on God's strength during these times, we can become a powerful testimony to those who do not know Christ.
Third, our trials equip us for effective work on behalf of others. When we go through hardship, we become specifically equipped. Then, we can empathize with and encourage others who may face a similar ordeal. This principle was an important part of the apostle Paul's active ministry. (2 Corinthians 1:4)
Finally, God permits trials in our lives to purify us. Hardships put pressure on us deep down inside. That's where we often try to hide sin, shameful habits, and areas of neglect. The Lord knows these things must be brought to the surface. We must face them openly and honestly if we're to become mature believers.
God has a purpose for every challenge He allows to come your way. Stand firm and allow Him to accomplish His will in your life—by whatever means He deems necessary.
 
FEATURED RESOURCE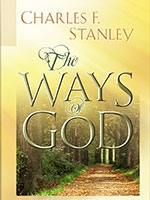 The Ways of God
from Dr. Charles Stanley
God's ways are always perfect, and following them leads to fulfillment and success. One of life's undeniable truths is that your choices will ultimately determine your future. While you can decide for yourself what career field to enter or who to marry, nothing compares with seeking God first and relying on the wonderful principles of His Word. In this series, Dr. Stanley teaches that as you serve God and seek His ways, you'll be blessed with peace, wisdom, and guidance for the journey ahead. Order here  now!
To see more resources from In Touch Ministries, please visit us at www.intouch.org  or go directly to our bookstore at In Touch Ministries.